Nothing is so full of promise or as short-lived as a new stick of gum or a new year's resolution. I confess that I have a 100 percent record regarding New Year resolutions: Of the many I have made, each has been faithfully annulled well before January elapsed.
So this year I have determined that the best possible course of action is to make several significant and determined resolutions for the New Year, but confine my selection only to resolutions to be carried out by others. This way, I can experience resolve without responsibility, much like media pundits, kibitzers, and my geometry teacher, Mr. Austreng, who lectured brilliantly about isosceles triangles but never actually built one.
Here are my lucky seven resolutions for the Goleta's City Council in 2010:
1. Let's leave Goleta's General Plan alone. As candidates in 2006, several of our current council members pronounced our plan good, requiring only a minor "tune-up." Now, after about four years, 223 council and Planning Commission meetings, 2,872 hours of public testimony, and 4,672 staff and consulting hours, at a cost roughly equal to the national debt of Uzbekistan, key changes were made that were more like an engine overhaul than a minor tune-up.
Goletans have had enough of this "home improvement"! Let's LEAVE THE PLAN ALONE (unless you want to restore some of Goleta's environmental protections that were junked during the so-called tune-up).
And since this resolution for Goleta's council is one of abstention, below are other resolutions to which they could apply their ample energies and wisdom.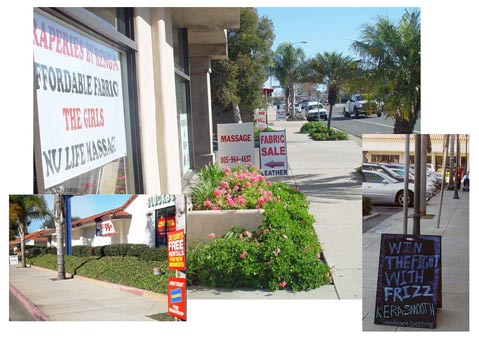 George Relles