One-third of the way through the college basketball season, Kentucky is ready for the NBA; Duke, Arizona, and a few others are vying for top NCAA seedings; and then there's everybody else. Santa Barbara's teams fall into the last category. They are so mainstream that their freshmen are expected to stick around and become seniors.
While the players are dealing with term papers and final exams, here is a progress report from courtside, with all grades subject to improvement.
UCSB MEN (4-5) – C+: The Gauchos had a solid B until their last outing, a 79-65 loss to the University of San Diego (USD) at the Thunderdome. It was a strangely lackluster performance after the Gauchos had been setting off thunderclaps all around the country. Four times they staved off defeat ― temporarily, in three cases ― by making clutch shots in the final seconds of regulation time.
At Florida Gulf Coast, Alan Williams coolly swished two free throws with 1.2 seconds, showing to send the game into overtime. The high-flying Eagles, led by guard Brett Comer, hero of their NCAA run in 2013, prevailed in the extra period, 81-75.
At the Great Alaska Shootout, Michael Bryson hit a three-pointer at the buzzer to force overtime against Mercer. This time, the Gauchos went on to win, 65-60. In the title game of the tournament, John Green drilled a three with six seconds left to tie Colorado State, but a foolish foul gave the Rams two free throws and a 65-63 victory.
At Southern Methodist, the Gauchos rallied from a 14-point deficit in the second half, and Gabe Vincent's three-pointer in the final 10 seconds tied the score, 67-67. The Mustangs regained control in overtime and sent their fans home happy, 80-73.
After playing so tough on the road, and having Williams anointed by Sports Illustrated as "the nation's most productive power big man," the Gauchos figured to get on a roll against San Diego last week. But they got off to a horrid start, and USD scored points in trios (hitting 10 of 14 shots from long distance). At one point, a Torero player grinned sheepishly when his heave above the key banked through the hoop.
After a forgettable first half, "Big Al" Williams went on a spectacular shot-blocking rampage to reward Gaucho fans who wanted to see some spark from their men. This still is shaping up to be one of UCSB's most talented teams, and it was encouraging to hear the players criticize their own effort. "We didn't play Gaucho basketball at all," said Vincent, an exciting and excitable freshman guard. "[USD] played well, hit shots. No excuses. We came in and weren't ready for it."
The Gauchos will try to get their game back on track Friday, December 19, when they host San Diego Christian, a team they should put away early. Game time is 4 p.m. After visiting Oregon and Oregon State, UCSB brings in the New Year at home against Vermont (Jan. 2) and Florida Gulf Coast (Jan. 5), a Pacific Coast rematch of their November shootout.
UCSB WOMEN (0-9) – E: That grade is for effort, the best thing that could be said about a team that has fallen on hard times. It has been a precipitous fall, from the NCAA Sweet 16 in 2004, to the vicinity of the nation's bottom 16. The Gauchos' losing streak is their longest since Mark French's first team finished the 1987-88 season on a 0-11 slide. (That was an improvement; the previous year's team lost 17 straight.) French subsequently built a fabulously successful program that averaged 25 wins over a 10-year span. The women pulled in 3,000 fans a game at the peak of their popularity. Last Friday, a gathering of 342 looked on glumly as the Gauchos endured a 7½-minute scoreless drought in the second half while losing to Pepperdine, 66-44.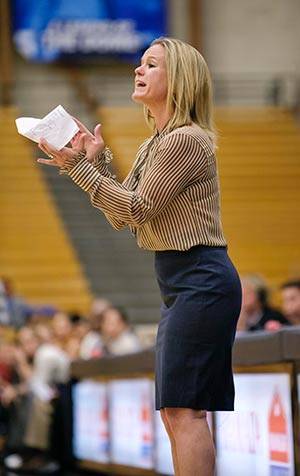 By Paul Wellman