Perched high above the Santa Ynez River and dressed in faded clumps of wispy lichen, two wind-whipped white crosses enjoy what may be the prettiest view in all of Santa Barbara County. Soaring red-tailed hawks and countryside tranquility can always be found on this stretch of rolling foothills between Buellton and Lompoc, but it's most magical in fall, when the green grass returns and autumnal shades of gold and red ripple across vineyards as far as the eye can see.
The crosses rise above the geographic heart of the grape-growing region now known to wine aficionados everywhere as the Sta. Rita Hills, today considered one of the best places to grow pinot noir and chardonnay on the planet. But it hasn't been that way for very long. In fact, when these crosses were first erected in the early 1990s, beans and walnuts were a better farming bet than wine grapes, and most people merely snickered at the notion that any part of Santa Barbara could become a world-class wine region.
That's no longer a laughing matter, for wine is quite possibly our wealthy county's most lucrative industry. The seed of that reality was first planted in 1971 on land across from the crosses at Sanford & Benedict Vineyard, which provided the first evidence that quality wine was possible here.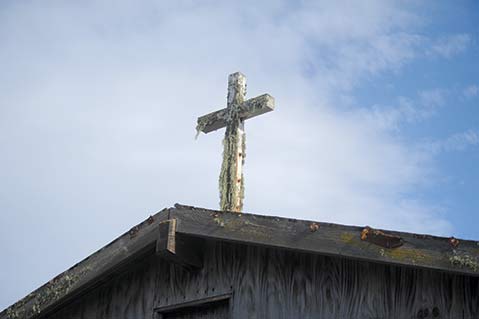 By Paul Wellman