Perhaps Tom Robbins was thinking of Santa Barbara when he wrote, "Never underestimate how much assistance, how much satisfaction, how much comfort, how much soul and transcendence there might be in a well-made taco and a cold bottle of beer." We should all know where to get tacos in town (La Colmena!), but the exciting thing is that the places where one can get the beer (if not a bottle, yet), keep growing, seemingly by a new brewery per month.
In true Santa Barbara fashion, we're talking companies concerned about sustainability and regionality, establishments based on family and friendships, brewers branching out to other businesses — and, perhaps most surprisingly, artisans who are turning away from the typical SoCal (especially San Diegan) style hop-bombs, even when brewing IPAs.
brewLAB
(4191-8 Carpinteria Ave., Carpinteria; brewlabcraft.com)
Steve Jarmie, Peter Goldammer, and Rob Peed take the LAB part of their brewery's name very seriously, brewing more than 45 different beers since opening in September. "If I had to brew the same thing all the time like places with flagship beers, I'd get bored," said Jarmie, who's only sold a couple of beers, such as the Green Tea IPA and Rye Session, more than once. They're even planning "a gluten-free that's good," said Goldammer. "That would be awesome."
Photo Gallery
BrewLAB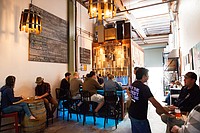 The nano-brewery cooks up both 50-gallon and 10-gallon batches at a time in a Carpinteria warehouse that's outfitted with rolling casters, a setup which fits a handful of extra people in the room when they are open. The cozy space showcases the trio's handiwork on salvaged items, like light fixtures made of old keg tops. "Pretty much everything but the plumbing and electrical lines we did ourselves," said Jarmie.
They're hyper-local in sourcing ingredients: The fruit in the Bath Street Orange Ale came from Goldammer's girlfriend's backyard; the beans for the Llama Saison (a surprisingly lovely mix of coffee and farmhouse ale), from Lucky Llama down the street. The environmental reach extends to their spent grain, which they send to UCSB's Bren School, where it is fed to crickets that they eventually plan to pulverize and use as flour for bar snacks.
BrewLAB is now open on weekends with 11 beers available and a pizza truck outside on Fridays. They've been aging sour beers and a Russian imperial stout since September, but you do have to enjoy the brews there, for now. "We'd love to fill growlers," said Goldammer, who hopes to do so soon. "We want to get our beers to lots of people."
Donald Brubaker