David Shelton's eyes shine when he talks about the gates. He's animated and articulate like a cool art history professor on a roll as he excitedly describes the form and content of two wrought-iron 20-foot-high structures, unpacking mythic meanings dating back to Ancient Greece and Syuhtun's (Santa Barbara's) Chumash, meanings both suggested and obvious, astrological and scientific in the figured fence. They are connections that clearly excite him and that he wants you to appreciate. It's almost a rapper's flow, minus the rhymes.
There are a couple of differences though: Shelton is talking about the gates that he designed but don't yet exist. One day they will, though, and rule the corner of Ortega and Garden streets as the portals to the new Community Arts Workshop (CAW). For now, however, they live only in drawings and as models in Shelton's corrugated tin-roofed studio on Fig Avenue. His impromptu lecture, delivered in ornamental detail, elaborately delineates the difference between the two gates: the winter side (on Ortega St.) for the year-round people who will use the CAW for myriad purposes such as workshops, crafty lairs, theater rehearsals, and maybe space for rock bands, and the summer side (on Garden St.) that will serve as Summer Solstice's permanent home.
In 2008, he was asked if he could spice up the Garden Street entrance to underscore the compound's upbeat mission as a dedicated community arts space. "The [CAW] buildings there are sort of nondescript," says Shelton, who also designed the corn emblems that decorate the iron fences on lower Milpas Street. Leon Olson, an architect, developer, and arts activist, and Claudia Bratton, the longtime Summer Solstice director, who retired this year, both wanted Shelton to try his hand at creating a memorable entryway. "[They] came to me back when they were still stumbling toward a permanent home, and they approached me to see if I was interested in designing something that would call attention to the spot. Of course I was glad to do it," Shelton says.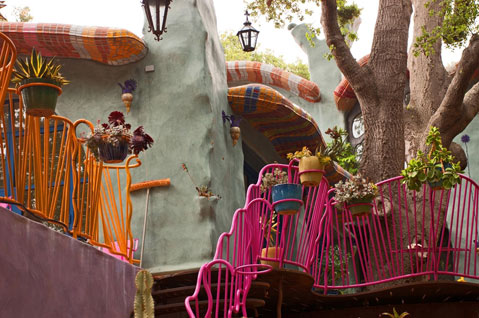 Jeff Shelton