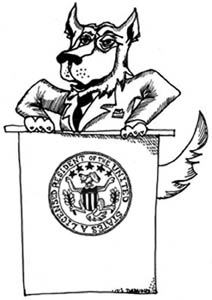 Michael Smith's latest production starts tonight, Thursday, September 13 at 8 p.m., and plays September 14, 15, 20, 21, and 22 at 8 p.m., plus a 2 p.m. matinee on September 22, all at Center Stage Theater. Here's why you should go:
1)It's funny. Playwright Michael Smith has a dead-on satirical sense, and all the pieces on this bill are guaranteed to make you laugh.
2)It's political. As a sequel to his November 2000 show Dogs Bark All Night, Bad Dog will allow Smith to finish what he started back before Bush hijacked the election from Al Gore.
3)It's personal. Michael Smith is a hero in the history of Santa Barbara theater. He started the Indy Awards and co-started the Genesis West productions. Now that he's moved north, he's in town all too infrequently, so let's show him some love, Santa Barbara-style.