Sports
UCSB Basketballer Chisa Ononiwu's Nigerian Summer
Out of Africa, Into the Thunderdome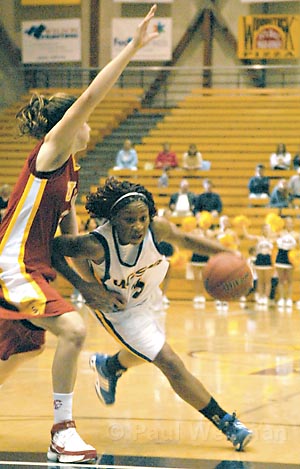 When Chisa Ononiwu was recruited to play on the Nigerian basketball team at the All-Africa Championships during the summer, Mark French had one concern: that she safely return for her senior year at UCSB.
"I checked up on the coaches and made sure she would have good people around her," said French, coach of the UCSB Gaucho women. "It was a win-win situation. Chisa could find out about her heritage and get some competitive basketball experience. It was an example of the sport providing an excellent opportunity."
French got a gift out of it: a small African drum that sits in his office. "It will be a nice remembrance of her," he said. But right now, the Gauchos are living in the moment with Ononiwu. She sparked them last week, scoring 17 points in their 79-69 victory at Loyola Marymount and 20 points in their 75-71 home loss to Maryland. She also had a team-high eight rebounds and played in-your-face defense against Maryland's Kristi Toliver, one of the nation's top point guards.
The unbeaten Terrapins came into the Thunderdome ranked No. 3 in the country with most of the same players who crushed the Gaucho women 105-44 a year ago. That game occurred a week before Ononiwu, a transfer from Baylor, became eligible to play for UCSB.
"I wanted payback as much as anybody," she said. "The Gauchos are my family. When they hurt, I hurt. When they lose, I lose. I don't think Maryland respected us. After we almost beat them, they do."
Ononiwu made connections with her more ancient family in Nigeria, the homeland of her parents. She was born and grew up in Houston, Texas. Her unabridged name, Chisaokwu, means "God answers your prayers" in the African language of Igbo. She received another tag when she joined the Nigerian team. "They referred to me as the Masked Woman," she said. "They saw tapes of me playing after I broke my nose." Ononiwu had played several games last season while wearing a protective mask.
She got no special treatment on the national team. Like everybody else, Ononiwu had to do her own laundry every day, squeezing out the clothes and hanging them on lines. After practicing in Nigeria, the team went to Dakar, Senegal, for the championships. The gym was so hot, she said, that they froze their drinking water, and it was warm by the end of the games. Nigeria's quest for the title ended in a quarterfinal loss to Mozambique.
Ononiwu returned to Santa Barbara just in time for the start of the fall quarter. She is majoring in psychology and working toward minor degrees in speech and hearing, and exercise science. "I want to work in speech pathology and help people with stuttering problems," she said. Because she is on track to graduate after four years of college, Ononiwu is not going to seek an extra year of athletic eligibility from the NCAA (she left Baylor in her sophomore year after playing just an exhibition game).
The 5ʹ7Ê° guard is UCSB's third leading scorer and rebounder. She shot poorly in the first few games this season. "It's just mental," she said. "My mindset [against Maryland] was: This is going in. I have to make this." She is working to become a better passer, the area of her game that stands to improve the most, according to French.
Having shown their potential to return to the elite status they enjoyed a few seasons ago, the Gaucho women will play on the road tonight, November 29, at Santa Clara University.
SATURDAY NIGHT LIGHTS: A resounding 45-0 victory over Temple City last Friday boosted Bishop Diego High into the semifinals of the CIF Mid-Valley Division football championships. The Cardinals (10-2) will face the top-ranked Paraclete Spirits (12-0) from Lancaster at 7:30 p.m. Saturday at SBCC's La Playa Stadium. Coach Tom Crawford extolled the effort of his entire Bishop team at Temple City, although running back Aaron Skinner accumulated some eye-popping individual statistics: 263 yards (a school record) on just 15 carries. KIST-1340 will provide radio coverage of Saturday night's game.