Business
Santa Barbara's Board Game Duo
Game Designers Colleen McCarthy-Evans and Joyce Johnson Take Home a Tagie Award
Whether it's Monopoly, Clue, or Scrabble, we all have a favorite board game. Many of us even have fond memories attached to them: family game nights, rainy days at school, nine-hour marathon sessions of Monopoly.
But for Santa Barbara residents Colleen McCarthy-Evans and Joyce Johnson, board games are a livelihood. The two women are the owners of Toying with Games, a board and card game design company whose credits include In a Pickle with Gamewright, There's a Fly in My Soup, Beeline with Basic Concepts, and Dig That Dinosaur with Pressman.
They met six-and-a-half years ago at an adult education class about the creation and production of games. At the time, both were busy with other careers; Johnson was in real estate development, and McCarthy-Evans was a school administrator. Both agreeing that the gaming industry was "challenging, exciting, and collaborative," it wasn't long before they realized their creative potential as business partners and Toying with Games was born. It took quite a bit of persistence to find their footing, but after the publication of their first game, In a Pickle, they knew they had found their niche.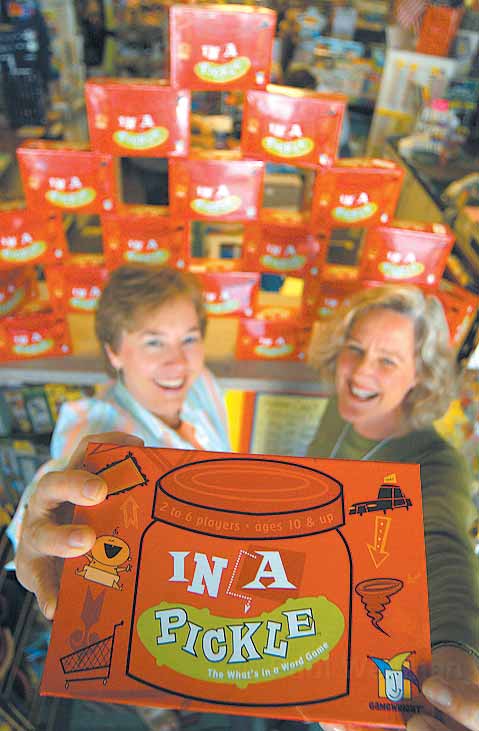 On November 21, the duo was awarded the Rising Star Inventor's Award (or a "Tagie") by the Chicago Toy and Game Group. They were the only women nominated for any of the ceremony's three awards. It was "quite surprising and exciting," said Johnson, who is a self-proclaimed kid at heart. For her, the game business has always been about "creating something that would have an effect on kids."
McCarthy-Evans joked, "I did have children, but now I have adults." She claimed that after trying a lot of different styles and approaches to board and card game inventing, "We like them all."
The game-making duo hosts a monthly game night at Borders Bookstore downtown on the second Tuesday of every month. The game night is free, and Borders even provides snacks for all in attendance. Another bonus: You might even get the chance to test some new games.
So what new games are in the works? "That's top secret," said McCarthy-Evans, "but we have several [potential] new releases."