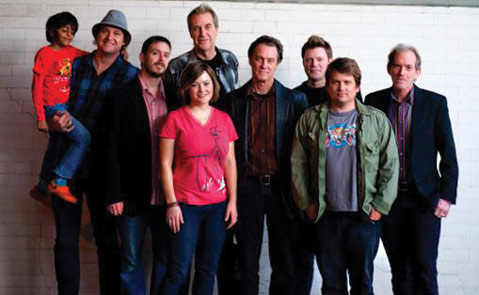 THE PRINCE OF PROGRESS:It's hard not to think of Glen Phillips when discussing S.B.'s pop music legacy. Even though it's been nearly 18 years since Phillips's Toad the Wet Sprocket released their breakthrough, Fear, the singer/songwriter/guitarist is still going strong. In between Sprocket reunions, Phillips has kept plenty busy with his solo career, which has included more stints at L.A.'s Largo than even I can remember. It's no surprise, then, that the Los Angeles hotspot would go on to score Phillips some pretty influential friends and, lucky for us, a whole new musical side project, too. This Tuesday, July 7, Phillips and his Largo cohorts (including Nickel Creek's Sean Watkins, Luke Bulla, and Sebastian Steinberg) will play SOhO (1221 State St.) as Works Progress Administration. And the sometimes-eight-piece supergroup boasts some serious Americana influences. (Think pedal steel, fiddles, and harmonization aplenty.) Their S.B. debut starts at 8 p.m. with opener AM (amsounds.com). For show info and tickets, call 962-7776 or visit sohosb.com.
GREENE DAY:Ask any musician: A good guitarist is hard to come by. Sure, nine out of 10 frat guys have probably picked up an acoustic at some point in their mating career, but it takes a mighty talent and sharp wit to truly master the electric axe. That's why some of music's greatest shredders (Keith Richards, Jimmy Page, Tom Morello) often outshine their frontmen. It's also why I encourage you to check out S.B.'s own guitar maestro Allastair Greene when he stops by Ventura's Bombay Bar & Grill (143 S. California St.) this Sunday, July 5, for a set with Jodi Farrell and The Front Street Prophets at 4 p.m. Greene's new disk, titled Walking In Circles, is anything but a rehashing of the longtime S.B. stalwart's multifaceted musical past. The title track is a swampy blues rock out that packs in solos aplenty (including one swinging harmonica breakdown), proving Greene's impeccable command of his instrument and begging his listeners to boogie along. Call 643-4404 or visit www.bombaybarandgrill.com for show info.
And for those who can't make it out, worry not, as Greene will be playing a chunk of gigs around town in support of the new album, including a show at Creekside Inn (4444 Hollister Ave.) on Friday, July 10, at 9:30 p.m.; a show at the Paradise Store (1 Paradise Rd.) on Sunday, July 12, at 5 p.m.; and a show at Carr Winery (414 N. Salsipuedes St.) on Friday, July 17, at 8 p.m. Visit agsongs.com for more on Alastair Greene, as well as all upcoming show info.