Arts & Entertainment
John Legend at the Santa Barbara Bowl
The R&B Crooner Led an Evening of Great Music Saturday Night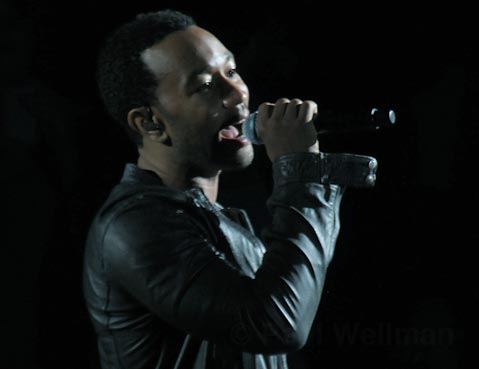 Saturday's Bowl show proved a night for the fans, thanks to the combined work of headliner John Legend, India.Arie, and Vaughn Anthony. Anthony, Legend's younger brother, opened the show to a steady flow of concertgoers who slowly began to fill up the amphitheater. Playing a short set of only four songs, the crooner showed his sensual side with a shirtless performance and seductive dance grooves. Vaughn's reggae-sounding "She Loves Me, She Loves Me Not" was a real crowd-pleaser, almost perfectly complementing his soulful vocal range.
Dressed in colorful attire, India.Arie took the stage next and explained her mission to "spread love, power, and peace through the healing words of music," later asking the audience to watch her set with their eyes and experience it with their heart. In tribute to Michael Jackson, Arie went on to cover the King of Pop's "Human Nature" with passion, intensity, and warmth. With each number, the soulstress brought depth and emotion through the power of her songs, which came predominantly off her latest album, Testimony: Vol. 2, Love & Politics. During "I Am Not My Hair," Arie even went so far as to remove her wig, embracing her baldness with the at-capacity crowd. "I never imagined standing ovations for being bald," she laughed.
Arie displayed her various musical talents, switching between the guitar, keyboard, and flute throughout the set. And by the end, the singer delighted the masses by hopping into the pit, shaking fans' hands during "That's Hope," and dishing up a crowd-pleasing short duet with her mother.
But by the time Legend took the stage, it was obvious who the audience had come to see. Before a packed house, Legend made a grand entrance, walking through the crowd and singing the first of the night's songs from the mid-level of the Bowl, just inches away from eager fans.
Legend's epic performance included an 11-piece band, a duet with his brother, and plenty of favorites, like "Green Light," "Everybody Knows," and a cover of the Beatles' "I Want You (She's So Heavy)." Throughout the show, Legend took special care to thank his legions, at one point pulling a fan onstage for a slow dance and gifting her with a rose. After the main set ended, Legend returned to hungry yelps for more, closing with a three-song encore that ended with another favorite, "Ordinary People."
All in all, concertgoers were not left disappointed, with the excitement continuing for some long after the houselights had risen. Outside the Bowl, Legend fans bumped the singer's tunes loudly and proudly from their car stereos, signaling to most that they just couldn't get enough of this worldwide R&B phenom.