Arts & Entertainment
The 2009 Santa Barbara Band Guide
Our Annual Issue Celebrates Year Three with More Than 150 Acts
No matter what your take on Santa Barbara's music scene may be, there's no denying that this place is ripe with inspiration. Flanked by mountains, coastline, and sprawling backcountry, there truly is something for everyone, which might just be why our resident music makers tend to be so diverse. This year, The Indy's third annual band guide beefs up from years past, boasting more than
150 acts from literally all points on the musical spectrum. So whether you're a pop fiend, a reggae lover, or a devout member of the church of metal, we encourage you to take a peek at the pages to followyou just might happen upon music's Next Big Thing.
Dylan Judah
For reggae and hip-hop artist Dylan Judah, things don't always go according to plan. Following in the footsteps of such worldwide success stories as Kings of Leon, Judah and his right-hand man Sugar Black are finding big-time fame far from their motherland. For the duo, aptly dubbed Black Judah, Jamaica has embraced their music (a raucous blend of dancehall, rap, and reggae roots) with open armsand skyrocketed the band to the top of their national charts. Don't be mistaken; Black Judah's popularity is by no means a modern-day version of getting big in Japan. In the past few years, Judah has recorded with reggae stars ranging from Elephant Man to Warrior King, in addition to his continued work with Sugar Black, and even scored a number-one single in Jamaicaa first for a Californian. "It's been such a blessing to work with all these icons of reggae music," said Judah. "It's exciting when these true Jamaican artists and living legends tell you that they are actually fans of your music. Then to have them come and record songs together, it just solidifies it and takes the skills and energy to the next level." As for what's next, we foresee a stateside takeover, and for Judah, the hometown love seems long overdue. Visit myspace.com/dylanjudah.
The Spires
Since launching Beehouse Records in 2004, The Spires have been a beacon for quality indie acts throughout the Ventura and Santa Barbara region. What started as a means of self-releasing their own sweet, slightly shoegazey tunes has turned the band into a model of sorts for likeminded music makers, including fellow labelmates Franklin for Short and Tall Tales & the Silver Lining. Most recently, the trio (made up of singer Jason Bays, his wife/drummer Colleen Coffey, and newcomer bassist Catelyn Kindred) wrapped up work on their second full-length, the near-perfect A Way of Seeing. With the addition of Kindred's groovy bass hooks, the album shakes and shimmies in all the right places, calling to mind everyone from Pavement and The Strokes to Belle & Sebastian and Blonde Redhead. The album's also worked to help spread the buzz about The Spires. According to a recent L.A. Record review, Seeing is "a perfectly delicious, evenly keeled 40-plus minutes of pure bliss."
"It's hard for me to be a judge of our music because I'm an overly critical judge of it,t" Bays said recently. "But I think some songs got closer to the sound we were looking for. : For some reason, this record has gotten a lot more notice than our others. Maybe it's just timing or the songs or just critical mass, [but] I am proud of most of it." Visit myspace.com/thespires.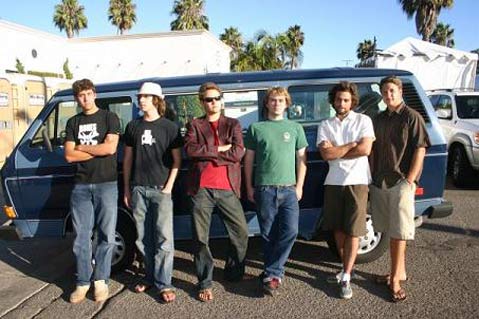 Lonesome Dub
Carpinteria reggae rockers Lonesome Dub have been playing music since they were but young tots. But it wasn't until starting college that brothers Taylor and Jordan Bleecker decided to form Lonesome Dub, many of whose members hail from Westmont College. Combining a big-band sound with instruments that include saxophone, trombone, keys, trumpet, bass, guitar, and drums, these jam-loving youngsters never fail to get a crowd moving. And with just a few years under their beltwhich has included shows at SOhO, Stateside, Velvet Jones, and their hometown Avocado Festivalthe band are more than confident in their hometown's musical worth. "The music scene has been supportive of local bands and has helped bring the community closer together," said lead singer Taylor Bleecker. "[It's] allowing people with many differences to find a common ground."
While some of the group's musical inspirations include rock and roots greats like Jimi Hendrix, Bob Marley, Groundation, and Ron Carter, they believe their biggest inspiration comes from their audience. "Our experiences have given us the energy to play better together while learning how to step outside of our musical comfort zone," Bleecker explained of their live show. "Improvisation has always been crucial to the formation of our songs." In the end, it's the band's combination of originality and spontaneity that undoubtedly keeps their fans begging for more. And with hopes to "spread positive vibrations, love one another, and celebrate the gift of life and music," we doubt this six-piece will be slowing down anytime soon. Visit myspace.com/lonesomedubmusic.
Tommy & the High Pilots
Santa Barbara natives Tommy & the High Pilots formed in 2008 and have since been embracing the resurgence of the Santa Barbara music scene, playing venues that include Velvet Jones, Sandbar, and The Mercury Lounge. Originating as a cover band called Mr. Handsome, the guys enjoyed their cohesive musical dynamic so much that they decided to create some tunes of their own. "If we can bring the masses on board with the Pilots, we can ignite an important spark that will leave Santa Barbara on fire," enthused lead singer Tommy Cantillon (metaphorically speaking, of course). As far as what ignites the Pilots' flame, Cantillon name-checked influences ranging from The Beatles, Talking Heads, and The Who to Tom Petty and Simon & Garfunkel.
Taking notes from some true musical legends, Tommy & the High Pilots describe their refreshing sound as "a stampede of horses coming toward you, loud, proud, and beautiful. For some reason you aren't scared, yet intrigued, and have to watch in awe as they do what nature intended them to. : We want to touch people with our music; lyrically speaking, we dig deep. We hope you can hear a tune and know what we were feeling when it was written, and in that respect, know that you are not alone." Transforming from a cover band to a newly talented rock group, the boys only hope to continue to grow as a group and as individuals through their quest to spread fun and laughter through the power of music. Visit myspace.com/thehighpilots.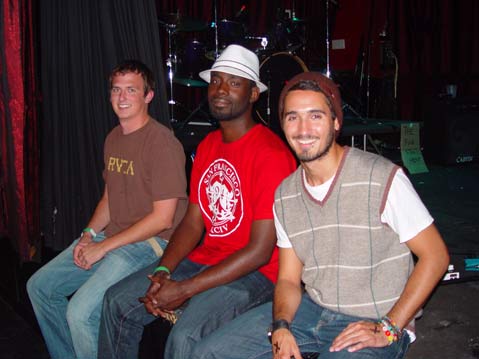 Grover Anderson
Grover Anderson has been playing music since his earliest years in high school. But it wasn't until he met bandmates Drew Bruchs and Raymond Jones that Anderson felt he found his musical calling. Since playing songs on the streets of S.B. as a college sophomore, the trio have transformed into a well-known area talent, capable of playing just about anywhere. "I can't complain about the music scene here," said Anderson. "It's really difficult to get a foot in the door at venues, but once you do, there are plenty of opportunities." Together, the band blend folk, pop, and rock, drawing on influences ranging from Bob Dylan and Jason Mraz to Josh Ritter and Garth Brooks.
"I live for getting onstage and playing my heart out," explained Anderson, "and the guys I play with bring so much talent into the mix that it keeps it exciting for people who are listening from any musical background." With a following of devout fans, the group are always trying to expand their musical style. "We look for ways to make the songs unique, by making them rock a little harder, jazzing them up, or really embracing the sensitive side. Because I started out doing the 'sensitive singer/songwriter' thing, I think people are quick to label our music as basic pop, but for me, the goal is a more classic rock vibe." As an appreciator of all types of music, Anderson embraces his singer/songwriter label, while trying to incorporate various sounds into something altogether new. "[I want to] celebrate life through emotion," he said. "Whether it's a song about love, pain, facing challenges, or just taking it all in, my goal is that people recognize how fortunate we are to be able to run the gamut of emotion and not take any moment that moves them for granted." And with that it mind, it seems as if only great things are to come from this talented group. Visit myspace.com/groveranderson.