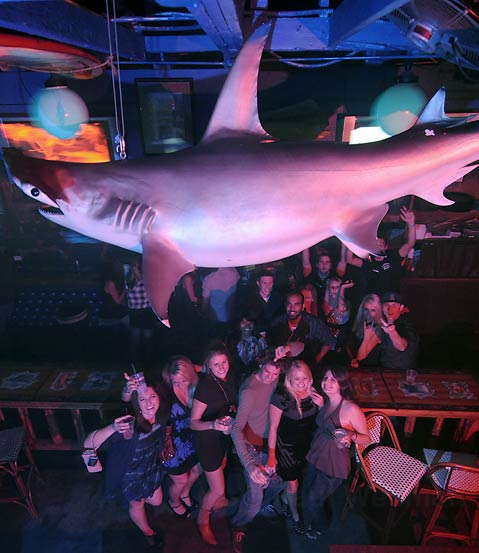 Dance Club
Wildcat Lounge
15 W. Ortega St., 962-7970
You pass through a deceptively small door and walk down the gauntlet of a long, friendly bar, and suddenly you are contemplating a world of dance that usually surprises newcomers. Its retro flavor makes the go-go dancers on their towers seem right at home alongside a backyard outdoor retreat (and, let's face it, smoking area) where you can find the youth of today discussing the relevance of Judd Apatow's filmography on the moral redefinition of America. Or you can dance. Different themes for every night of the week: gay night, local bands, hip-hop, and deejays. Something for every terpsichorean urge.
FINALIST: Tonic
Place to Hear Live Music
SOhO Restaurant & Music Club
1221 State St., Ste. 205, 962-7776
"That's what we get for persevering," laughed Gail Hansen, who co-owns this popular nightclub in the fashionable arts corridor with husband Bob. She's speaking of SOhO's first-ever triumph in this category, usually reserved for one of the bigger venues in this culturally rich burg. "It was a really hard year until last February, when people started going out and remembering how to have fun," she said. The biggest nights of the year included anything reggae, hip-hop group Arrested Development, AC Newman, Animal Liberation Orchestra, and Devendra Banhart. "Probably a big reason people like us is because we have something every night. It's our 15th year now. And a lot of people just like coming here because they feel comfortable," she said.
FINALIST: Santa Barbara Bowl
Gallery
Sullivan Goss: An American Gallery
7 E. Anapamu St., 730-1460
"We're absolutely thrilled that we won," said Frank Goss, the man who saw this business grow from art bookstore to its current indispensable role as gallery and fine downtown restaurant/meeting place. "Especially because there's such a wealth of opportunities in this town where you can go to see art." Most galleries, according to Goss, sell only about 5 percent of their total income out the front door, relying on catalogs and patrons to come along. His art business-with more than 3,000 works stored onsite-does 65 percent, often selling to people as varied as big art collectors and wait staff. "Needless to say, we are very grateful for all this local patronage," said Goss.
FINALIST: Santa Barbara Contemporary Arts Forum
Museum
Santa Barbara Museum of Art
1130 State St., 963-4364
"We are very excited to be everyone's favorite museum again," said SBMA Director Larry Feinberg. "And we plan to do our best to live up to the honor, presenting exhibitions ranging from Imperial Chinese to French Impressionist art. I hope the voting reflects the fact that we are trying to put on exhibitions of the highest quality while offering such a variety of works that show the whole range of human creativity."
FINALIST: Santa Barbara Museum of Natural History
Dance Company
State Street Ballet
2285 Las Positas Rd., 563-3262
Now presumably all moved in at its new facility named for arts patron Gail Towbes, Rodney Gustafson's people-pleasing ballet troupe continues to take this honor from discerning readers, who've no doubt watched an already professional company-the only one in town-spread its wings from visionary nutcrackers to this year's promising program about pirates. Always strong physical entertainers, Gustafson's dancers perform all over the country, spreading the word of our little town's big commitment to high culture.
FINALIST: Rhythm Dance & Fitness Studios
Theater Company
Ensemble Theatre Company
914 Santa Barbara St., 965-5400
"It was a tough year, no doubt," said Ensemble Theatre's Executive Artistic Director Jonathan Fox, about to begin his fourth year and the company's 30th with gala celebrations and an exciting season. "Donations were down, but I'm very proud of the artistic triumphs we had this year. People have come up to me on the street and said, 'I thought about your play for days afterward.' That's a great tribute."
FINALIST: Santa Barbara City College Theatre Group
College Night
Sharkeez
416 State St., 963-9680
Santa Barbara can be many different things to many different people. High cultural roost to the well-educated and heeled; natural wonderland to the outdoorsperson; or down and dirty partyland to the young, and, sometimes it seems, particularly those Bill's Bus brings in from Isla Vista. Many of the revelers come downtown to blow off musty academia in Sharkeez, which, once inside, seems like a pleasure palace anywhere from Baja California to spring break Florida-music, sports TV, food, and lots of liberal libations. Every Thursday, Sharkeez offers drink and food specials with college IDs. And you thought you had to wait for a diploma to make it big in Santa Barbara.
FINALIST: Sandbar Mexican Restaurant & Tequila Bar
Place to Shoot Pool
Dargan's Irish Pub & Restaurant
18 E. Ortega St., 568-0702
Dargan's is many different things to many different people. Some like it for Irish breakfasts, others the Guinness or Murphy's on tap, while still more spritely folk think of it as a place to do a wild jig to the strains of "Planxty Davis." And then there's them that play pool. A giant front room on Ortega Street-crowded but extremely civil-hosts barkeeps, a great jukebox (which used to win awards all on its ownself), green felt or baize, and colored and striped balls with cues as straight as the banks of the Liffey. (Whatever that means, me buckos.) And you thought wearin' the green was just for Saint Patrick's Day.
FINALIST: Don Q Family Billiard Center
Classical Ensemble
Santa Barbara Symphony
1330 State St., Ste. 102, 898-9386
John Robinson's tenure as executive director has been marked with a new conductor-the passionate Nir Kabaretti, who makes his permanent home in the fabled city of Florence, Italy-and a new, more humanistic programming of concerts. Besides Robinson's own pet projects like the Guitar Festival, in its second apparition last spring, he's also given tons of support to Kabaretti's Romantic-Modernist tendencies. This year, for instance, the big band that plays the Granada will take on lots of Tchaikovsky, Rachmaninoff, and Mahler's gigantic 5th Symphony, besides a heaping helping of Mozart, Beethoven, and Haydn. These are healthy indulgences, and the symphony continues to grow its appeal here in a modern town where romanticism lingers in the streets.
FINALIST: Music Academy of the West