Briefs
Dos Pueblos Engineering Academy Wins Big
Takes Second Place in Large Robotics Competition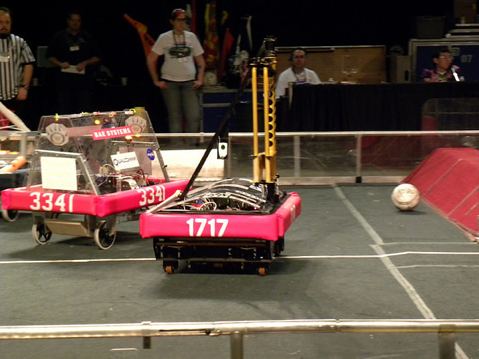 Dos Pueblos Engineering Academy (DPEA) Team 1717 took second place out of 50 contending teams at the San Diego Regional FIRST Robotics Competition. For this class of Dos Pueblos seniors, it was the highest ranking they have received at the contest.
The Engineering Academy at Dos Pueblos is a four-year program that students apply for as incoming freshmen. According to school officials, the application process is very competitive, with many students jockeying for a spot in the 32-student class. All Team 1717 members take specific Advanced Engineering Physics and FIRST (For Inspiration and Recognition of Science and Technology) robotics courses.
They reportedly learn business and leadership skills as well as advanced physics and engineering, all the while participating in specialty groups that focus on computer programming, electrical engineering, and mechanics.
After an intensive six-week building process, the team shipped their robot off for the competition and, despite attending the earliest competition which didn't allow them much time for last-minute fixes and preparation, still took second place. The robot, along with its competitors, took part in a devised "soccer game" and was also required to lift specific objects.
"I've loved the experience of being able to use the skills I learned in school to produce an actual robot," said Dos Pueblos senior Anjali Daniels. "It is very rewarding." According to Daniels, the class, six-week program, and competition has really brought the team together and they now consider themselves "family."
On top of this prestigious award, Team 1717 also won the Motorola Quality Award, meaning their robot was the best "looking" robot there. "It meant a lot to be recognized for the additional work that we did to make it look professional," said Daniels.
In addition to the team's second place ranking and Motorola Quality Award, student Nicole Schauser also won one of the two FIRST Dean's List Finalist Awards offered at the competition.
Team 1717 will be leaving this weekend for their next competition at the Long Beach Convention Center. If they do well, they will have the opportunity to go onto nationals in Atlanta in mid-April, a goal they are looking forward to and working hard for.