Courts & Crime
Fourth Arrested in Hendry's Beach Homicide
Adrian Robles, 20, Captured by Authorities at a Home in Ventura
The fourth and reportedly final suspect in last week's Hendry's Beach homicide was arrested on Tuesday night, April 20. In a joint effort between the Santa Barbara County Sheriff's Department, the Santa Barbara Police Department, and the Ventura County Sheriff's Department, 20-year-old Adrian Robles was picked up at a home in Ventura. He is now being held without bail in Santa Barbara County Jail.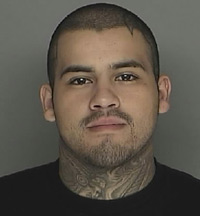 While the investigation remains open as authorities search for possible accessories to the April 15 murder, detectives believe Robles to be the last of the four suspects immediately connected to the crime, in which 44-year-old Robert Burke Simpson was killed following an argument just before sunset near the grassy lawn and parking lot of the popular county beach, also known as Arroyo Burro. While eyewitnesses to the killing and aftermath numbered in the hundreds, authorities have been tight-lipped with details. They are expected to explain more of the known chain of events during an upcoming press conference that the Sheriff's Department says will occur within the next two days.
The other suspects in custody include Rudy Gallegos, 21, of Santa Barbara, whose home on San Pascual Street was raided Sunday after he'd been arrested for homicide; Brittany Danielle Weiler, 19, who was arrested for being an accessory to murder; and a 17-year-old unnamed juvenile, also picked up on accessory charges.
Like Gallegos, authorities are not yet releasing the booking photo for Robles, citing the "sensitive nature of the ongoing investigation."