Film & TV
Conviction
Hilary Swank, Sam Rockwell, and Minnie Driver star in a film written by Pamela Gray and directed by Tony Rockwell.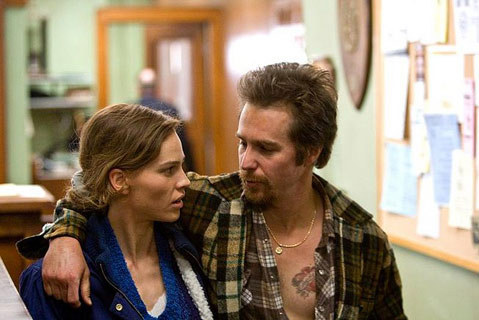 Hilary Swank is one of those elite actors who rises to the higher level of her better film vehicles and manages to raise the standard of the lesser ones. Unfortunately, Conviction, for all of its virtues, falls into the latter category. It tells the noble and gritty true tale of Betty Anne Waters, who struggled to become a lawyer, all in the effort to overturn her brother's unjust conviction and life sentence for a 1980 murder he didn't commit.
But somehow, the film never lives up to the potential of the material, instead suffering from the glib and glossy effect of a cable-TV movie. Attempts to energize the narrative with chronological puzzle-making and manufactured intrigue can't pull us into empathy or engagement with the characters. Even so, there is Swank in the center, seizing our attention and bringing a familiar depth and heart to a tough character, much as she did in another very different true-life film, Boys Don't Cry. Sam Rockwell does a fine job, as well, as the volatile scalawag whom we expect to transgress on a moment's notice, and Juliette Lewis puts in one of her saucily juicy bit parts as a snaggletoothed trailer-trash queen. (Her confession scene deep into the film comes as an unintentional bit of comic relief.)
No doubt, much of the appeal and power of this film and story has to do with the wheels of justice actually working, and set into motion by an outside party. Conviction—a tidy doubly intended title, referring to the fate and state of both its central characters—is a dramatized real-world saga in the vein of Erin Brockovich, in which a socio-economically stretched single mother takes charge of an injustice, and wins out. In Waters's case, the all-important agents of change and resolution came in the form of N.Y.C. legal advocate Barry Scheck and the advent of DNA testing, unavailable at the time of the crime.
As for the filmmakers, the real challenge relates to how, when faced with all the evidence of the story at hand, to make a compelling cinematic case. The jury is still out to lunch on this one.