Announcement
Seymour Duncan Joins Notes for Notes
Maker of World's Best Guitar Pickups Now on Nonprofit's Advisory Board
SANTA BARBARA, OCTOBER 2010 — Seymour Duncan, the world-famous maker of pickups for guitars, has joined the advisory board for Notes for Notes, a nonprofit dedicated to providing youth with free access to instruments, instruction, and recording studio environments in Santa Barbara. Duncan is also planning a fundraising concert to benefit the organization, and that is expected to occur sometime next year. For his support, Duncan was presented with a Gold Record Sponsor Award by Notes for Notes executive director Phil Gilley earlier this year.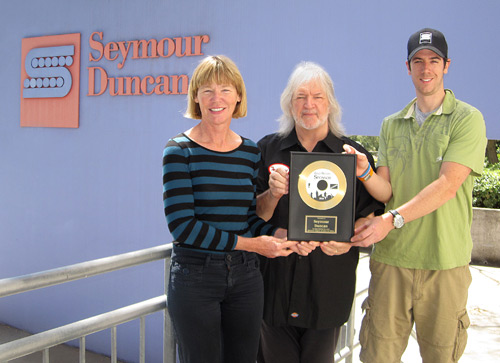 "Notes for Notes is the perfect partner for me," said Duncan. "I've spent a lifetime enhancing guitar technology and spreading it around the world from my homebase here in Santa Barbara, and I feel honored to be able to share some of my success with a nonprofit that's focused on bringing music to young people in our community. Notes for Notes and Seymour Duncan are together at last."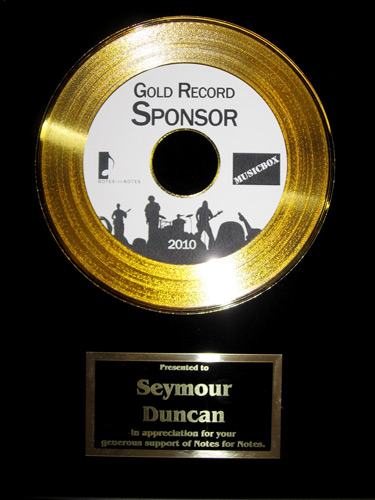 "Who better than the legend in guitar making to support Notes for Notes, which literally puts guitars in the hands of aspiring musicians?" asked Gilley. "We are extremely pleased that Seymour is interested in supporting our organization, and since his renowned factory is based in Goleta, the relationship makes perfect sense."
Duncan joins actor Jeff Bridges, actress Carol Burnett, musician Brian Miller, Peter Noone of Herman's Hermits, Martin Gore of Depeche Mode, and David Crosby of Crosby, Stills, and Nash on the advisory board.
Notes for Notes is a nonprofit organization dedicated to providing youth with free access to music instruments, instruction, and recording studio environments so that music can have a profoundly positive influence in their lives. The organization builds and operates recording studio environments called MusicBoxes that are packed with electric guitars, drums, keyboards, turntables, computers, and musical software. The first MusicBox was built in the City of Santa Barbara's 1235 Teen Center, the second is inside the Boys and Girls Club of Santa Barbara on East Canon Perdido Street, and the third is soon-to-be-constructed inside the Santa Barbara West Boys and Girls Club on West Anapamu Street.