Arts & Entertainment
Pretty Lights Music Tour at Velvet Jones
Dubstep Deejays SuperVision, Gramatik, and Michal Menert on Monday, December 5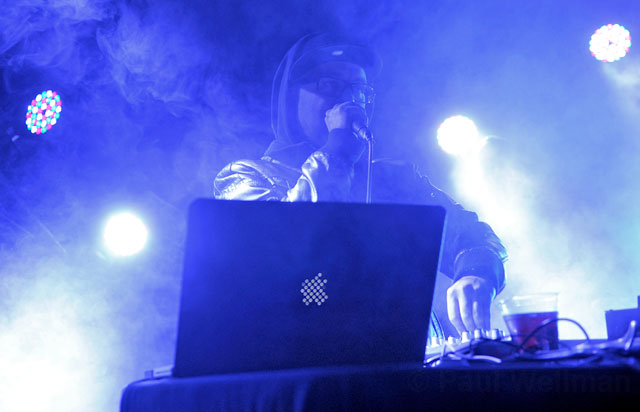 Finals week may be upon us, but that gave no pause to the studious youth who flocked downtown on Monday en masse for a rare glimpse at the Pretty Lights Music Tour. SuperVision, Gramatik, and Michal Menert put sub-bass frequencies to the test with respectively fresh deejay sets, creating a seismic reaction with Velvet Jones as the epicenter.
Titled after the stage name of Derek Vincent Smith, Pretty Lights has been offering an alternative to your corner dubstep deejay since Smith's debut on the major festival circuit in 2009. The public could almost immediately tell that this was something different; a novel language of electronic music using the grammar of hip-hop with the sounds of soul, funk, jazz, and drum and bass. Throw in live instrumentation, a custom-built light show, and a beefy subwoofer, and you've got a party to unite an entertaining range of personalities, from the nerdy gearhead to the dance-floor warrior. When Smith started the label to bring together like-minded international artists, who offer all of their music online for suggested donations to circumvent sampling costs, Pretty Lights Music quickly became a genre unto itself.
The complex edits, digital synthesizers, and multilayered samples of Pretty Lights Music may be difficult to keep pace with in your headphones, but, fortunately, the body often moves quicker than the brain in these matters. Certainly, this was the case for SuperVision's crowd, who arrived early for a homebrew mixture of head-nodders from his recent debut album, Telescopic, replete with '90s hip-hop samples pitched nearly beyond recognition.
Eventually, MacBooks were traded out as Gramatik took the helm with a live guitarist in tow. Since the release of his Beatz & Pieces series, the Slovenian producer-cum-deejay has built a solid word-of-mouth following based on clean cuts like "Hit That Jive" and "Just Jammin'." Converting funk, jazz, and soul samples into raw, instrumental beats, the duo brought an inimitable personality to the stage that is often lost in the process of live digital music. The pair soon yielded the floor to a guy complaining about his monitors, who turned out to be Michal Menert, but the night undoubtedly belonged to Gramatik.
It was not long before Menert, too, found his groove with punchier, slightly more aggressive tendencies. The Polish button-pusher weighted his set with selections from his 2010 debut album, Dreaming of a Bigger Life, peppered with Pretty Lights collaborative tracks like "Summer Love," which flies so high you can almost see the cloudy mountaintops of Colorado, where he and Smith grew up alongside many other artists on the label. Though Pretty Lights Music may be in its nascent stages, it's clear that these little lights will soon be main fixtures.