Announcement
Over 40,000 Monarch Butterflies Counted at Ellwood Mesa
Docent Tours Now Available
During the annual Thanksgiving Count of monarch populations throughout California, over 40,000 monarchs were counted at Ellwood Mesa.
Since 2007 the City of Goleta has offered Ellwood visitors the opportunity to hear from on-site docents. The docent program enhances the visitors' experience by sparking curiosity, helping visitors build observational skills, and providing information about butterfly biology, behaviors and migration. These community volunteers are present at the grove each Saturday and Sunday (weather permitting) from 11:00 a.m. to 3:30 p.m., and lead field trips for school and community groups during the week.
In the morning and on cool days, the monarchs hang in large clusters on the eucalyptus trees, and can be seen basking in the sun and flying throughout the grove on warm afternoons. The monarchs are most active during their mating season in early February before they begin their migration northeast to the western Rockies.
The City of Goleta is fortunate to have multiple monarch overwintering sites, the largest of which is Ellwood Main Monarch Aggregation Site, located along Devereux Creek on the City-owned Ellwood Mesa Open Space – also known as Sperling Preserve.
The Ellwood grove is accessible through the Coronado Butterfly Preserve, located at the end of Coronado Drive. For more information, contact Jessica Haro, the City's Monarch Docent Coordinator, at 961-7510 or jharo@cityofgoleta.org.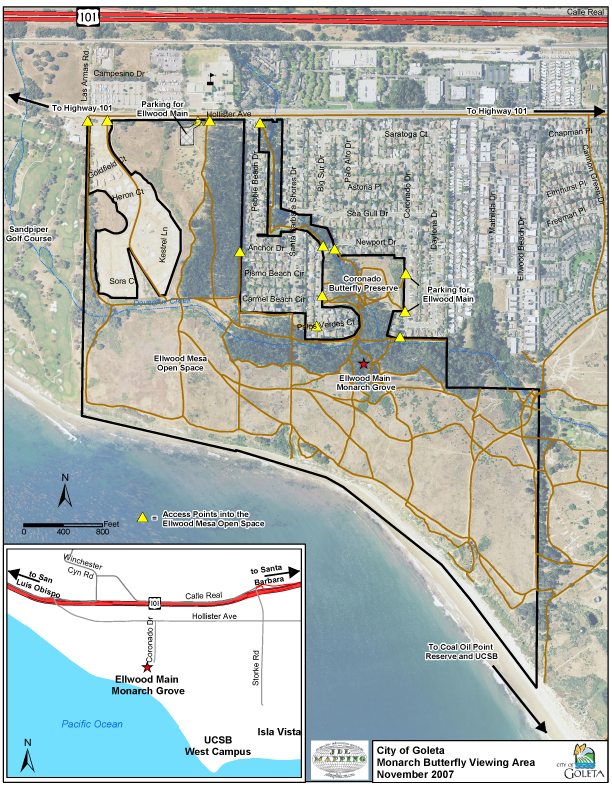 A little more about butterfly counting:
1. Multiple observers separately count a small number of butterflies, such as 10 or 20, within a definable cluster.
2. Each observer visually establishes a search image of the area of the counted number using a grid pattern and extrapolates across a cluster to arrive at a total number of butterflies for the cluster.
3. Results from each of the observers are compiled, by cluster, and averaged for a final butterfly estimate per cluster, and ultimately, for each butterfly aggregation site.