Arts & Entertainment
The Humble and Honest Tommy Noble
Physics-Studying, Chicken-Raising Duo Play Earl Warren Showgrounds on Friday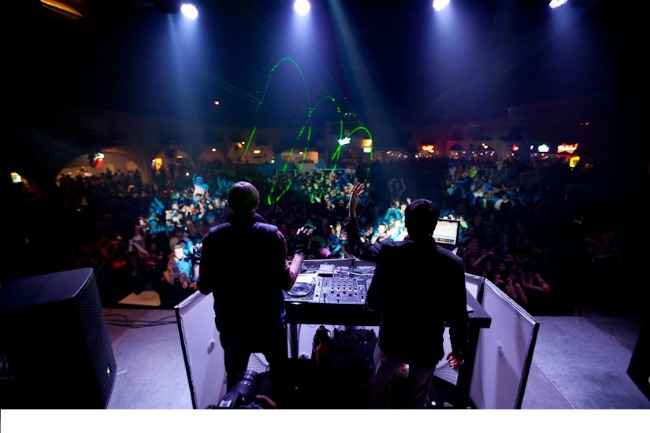 The electronica wonderkids of Tommy Noble are worth rooting for. Not necessarily because they're local or because they're young or because their music is good. They are worth rooting for and supporting because they're different — they are who they are, and it's something that has some people in the industry scratching their heads.
Trevor and Alex spend their days rather unassumingly. Alex, a double-major at Westmont, studies theoretical physics traveling between gigs. I know that sounds like some "funny" little tidbit that someone might include in a profile of Thom Yorke or Bono, illustrating how they're modern day renaissance men. But, please understand, he's literally studying physics. On an atomic level.
Trevor lives in a Carpinteria house with chickens in the backyard. He produces folk albums. He's been dating a violinist from Kansas City for a few years now, and he's a reluctant Denver Broncos fan (bothered by the violence of the sport). At the clubs where he and Alex send shudders down people's spines with their breakdowns and synths, his drink of choice is red wine.
What's perhaps more interesting about Tommy Noble, though, is how people react to them. In only a limited amount of exposure to the scene and with their lives on the road, it's remarkably consistent — people love them. Trevor and Alex are humble and honest. They don't bring girls backstage or treat sound guys with contempt. At a recent sold-out show in Santa Ana, in a theater containing over 1,600 people, they spent their time pre-show in the green room studying and reading, discussing at length whether or not Alex should wear his fingerless gloves. (He decided to wear just one.) All the while, other artists, managers, publicists, and journalists could be heard in the halls saying, "Did you see what he's doing? He's literally studying physics. That's incredible."
It's an interesting time to be in this genre of music. The environment is primed for up-and-comers and fresh faces, but sustainable success just doesn't seem plausible for most. The genre doesn't seem set up for it. The amount of content that artists are expected to produce is staggering when you realize how long each song takes to make (literally hundreds of hours), and even then it's usually on a song-by-song basis. And determining how popular or successful a song has been is difficult, since most fans rely heavily on pirating and bit-torrenting content.
But, despite the odds, Tommy Noble have continued their rise. Now, when they play their songs at shows, the audience sings along. And things look like they're only going to get better for Trevor and Alex — they've been writing music a lot, and they're having fun doing it. The demand for Tommy Noble is high, since they've only released five songs (three of which are remixes), and they're clearly excited to deliver something new.
4•1•1
Tommy Noble's next gig here is at Earl Warren Showgrounds on January 20, where they'll be playing with the likes of Steve Aoki and Datsik, both heavy hitters in the electro-scene. Tickets are available online at: aokisb-zvents.eventbrite.com
You can also find Tommy Noble on iTunes (just search Tommy Noble), on Beatport (beatport.com/artist/tommy-noble/), and on SoundCloud (soundcloud.com/tommynoble)