Briefs
'Carrot Mob' Advocates for Environmentally-Conscious Business
Additional Revenue Helps Coffee Shop Purchase Energy-Efficient Light Fixtures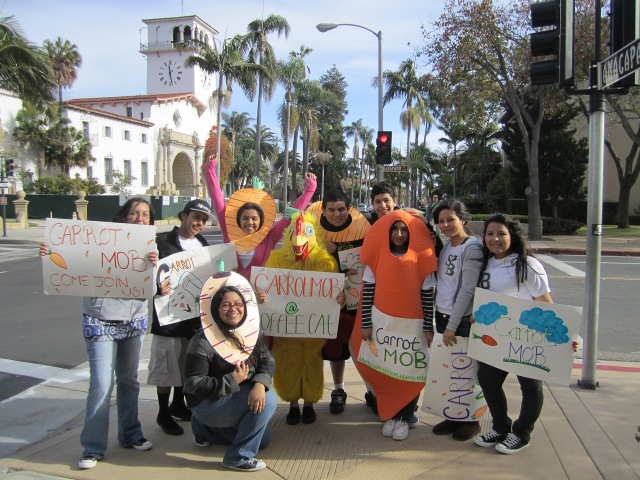 A Carrot Mob is a "reverse boycott" designed to bring customers to a certain business in hopes of generating enough profit to bring in more environmentally-conscious products than the business had previously implemented.
Coffee Cat on Anacapa Street participated in a Carrot Mob on Saturday, January 21, agreeing to allocate any additional profits towards improving the efficiency of the lighting in the coffee shop. By the end of the event, results looked to be positive enough to accomplish the goals of both Coffee Cat and the Community Environmental Council (CEC), the sponsor of the event.
Any revenue above that of the average Saturday at Coffee Cat will be devoted toward replacing the light fixtures with more energy-efficient ones. The replacements of approximately 44 lamps in the shop should result in a 30 percent energy reduction, according to CEC's website.
"It's been pretty much a packed house all day," said Aylin Siu who was tabling at Coffee Cat on Saturday for the CEC. By the end of the event, an estimated 300-400 people had stopped by the shop.
CEC Renewewable Engergy Specialist Megan Birney said that there were few times during the event when there had not been a line of customers at Coffee Cat. Birney explained that the owner of Coffee Cat had been working on becoming a certified green business and that replacing the light fixtures will be the last step to gaining certification.
Student members of the Dons Net Café, a student-run business at Santa Barbara High School, carried signs on the corner of Anacapa and Anapamu Streets in front of the shop, advertising the mob and shouting at passing vehicles, asking their drivers to stop by Coffee Cat.
"We're just trying to help the planet," said Jesus Terrazas, a sophomore at Santa Barbara High who was picketing with Dons Net Café.
Birney said that CEC's past carrot mobs have reaped successful results; last year's carrot mob at McConnell's helped them replace the light fixtures in their ice cream containers, decreasing their electricity — including air conditioning.
Customers were also encouraged to use environmentally-friendly transportation to get to Coffee Cat, with free bike valet services provided by the SB Bike Coalition.
"At CEC, we really feel that finding solutions is important, and that this is one type of solution where we can actually get the community involved in helping a local business," said Birney.