Katy could be exactly the dog you and your family have been looking for. At 2½ years old, 49 pounds, this pit bull mix is good with grade school aged kids, likes other dogs, and is gentle and calm. Add in her good looks and being easy to handle…what's not to like? And did we mention she is a world class ball player–it's the majors for her!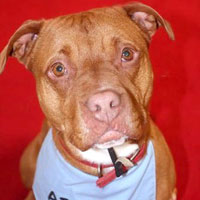 Katy knows all her basic commands and walks nicely on a leash. She recently went on one of her first off sites walk. We learned that Katy is very smart, responsive, and loving to everyone she met. She was the official greeter at the C.A.R.E.4PAWS children's education booth and did just fine.
If Katy sounds like the perfect dog for you, stop by the Santa Barbara County Animal Shelter, 5473 Overpass Road, Goleta. Read more and view photos at www.K-9PALS.org.
Do you love dogs, but can't have a pet? Volunteer at the shelter or for K-9 PALS or make a donation to K-9 PALS to help pay for the medical expenses and prescription foods for the shelter dogs. For details about volunteering at the County Animal Services, Santa Barbara Animal Shelter, call 681-4397.