Announcement
Dr. David Krieger Honored April 25 for 'Saving Life on Earth'
Dr. Krieger received the award in Moscow on April 25, at the conclusion of a lecture series on sustainability—a precursor to the Earth Summit taking place later this year in Rio de Janeiro. Dr. Krieger's lecture topic was "Sustainable Development and Problems of Global Safety."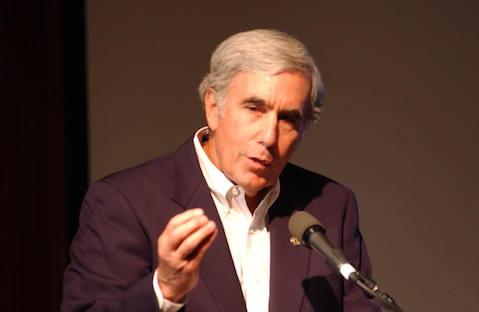 Dr. Krieger is only the 19th person to have received this award, which has also been bestowed upon Valentina Matvienko, Yuri Luzhkov and Artur Chilingaro.
Dr. Krieger has received many awards throughout his 30-year career to promote peace and abolish nuclear weapons. He is the recipient of the Earth Charter Award for Democracy, Nonviolence and Peace by Citizens for Peaceful Resolutions (2011); the Peace Writing Award of the OMNI Center for Peace, Justice and Ecology (2005, 2007, and 2010); the Golden Dove (2009); Occidental College Alumnus of the Year (2008); the ECOMIR Peace and Environmental Prize of the Russian Academy of Natural Sciences (2006); the Freedom From War Peace Leadership Award (2006); Global Green's Millennium Award for International Environmental Leadership (2005); the Peace Educator of the Year Award of the Consortium of Peace Research, Education and Development (2001); the Gakudo Peace Award of the Ozaki Yukio Memorial Foundation (2001); the Soka Gakkai Hiroshima Peace Award (2000); the Peace Award of the International Journal of Humanities and Peace (2000); the Soka Gakkai International Peace and Culture Award (1997); the Soka University Award of Highest Honor (1997); the Peace Award of the War and Peace Foundation (1996); the Big Canvas Award of Santa Barbara Magazine (1996); and the Bronze Medal of the Hungarian Engineers for Peace (1995).
The Nuclear Age Peace Foundation was founded in 1982. Now in its 30th year, its mission is to educate and advocate for peace and a world free of nuclear weapons and to empower peace leaders. The Foundation is comprised of individuals and organizations worldwide who realize the imperative for peace in the Nuclear Age. The Nuclear Age Peace Foundation is a non-profit, non-partisan organization with consultative status to the United Nations Economic and Social Council and is recognized by the UN as a Peace Messenger Organization. For more information, call 805.965.3443.