Sports
Strikeouts and Home Runs
Dos Pueblos High Pitcher Luke Loggins Helps Team Vie for Channel League Championship
Hit singles are common throughout Kenny Loggins's musical repertoire, but they are rare when his son is performing on the mound for the Dos Pueblos High baseball team. Luke Loggins entered this week with a 9-2 pitching record, his most recent outing a masterful 1-0 shutout of Buena, as the Chargers clinched at least a tie for the Channel League championship.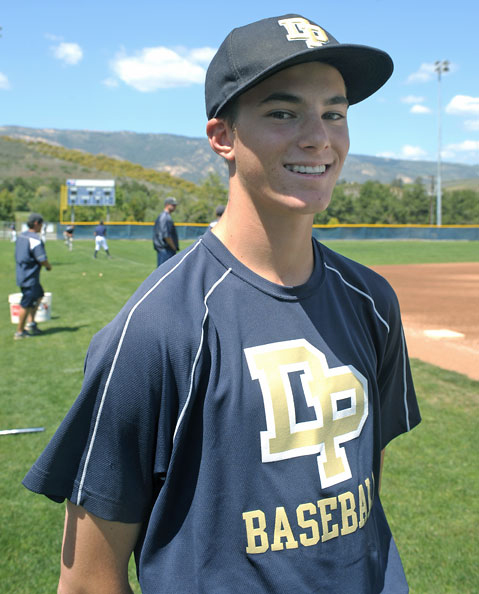 With relentless consistency, Loggins pumped the ball into the strike zone, changing speeds and angles to keep the hitters off-balance. At 6'1" and 150 pounds, he is not a power pitcher. He struck out one Buena batter but issued no walks and allowed just three hits. His control is so good, DP coach Nate Mendoza said, that "he can throw changeups and curves on a 3-1 count," when most pitchers would go to the fastball.
Behind every Loggins pitch is a piece of music. "I like to have a song in my head," the senior right-hander said. "The rhythm helps the flow of my mechanics. It slows things down." What kind of music? "Rap is my favorite," he said, citing artist Kendrick Lamar. His father, a classic rock singer and songwriter, "is not a big fan," Loggins said. "He's definitely old-school when it comes to rap."
When the Chargers played at Santa Barbara High in March, the loudspeakers played "Footloose" and other songs by Kenny Loggins before the game. "I know a lot of their players, and they intended it as a practical joke," Luke said. "I'm so familiar with those songs, it relaxed me." He went out and pitched a shutout, the first of his two victories over the Dons, the two-time defending league champions.
Dos Pueblos also has gotten quality pitching from junior Nolan Soto, and, according to Mendoza, "our defense has been phenomenal." Catcher Joe Huthsing has swung a big bat for the Chargers.
Another pitcher with a musical family background is SBCC's freshman right-hander Brendon Shoemake. His grandfather, Charlie Shoemake, is an accomplished jazz vibraphonist. "Grandpa taught me to listen to jazz, and I like it, but it's hard to stay on that trend," Shoemake said. "I like getting ready [to pitch] by listening to upbeat rap music, or old-school funk like Kool and the Gang."
SBCC won its last five regular-season games to claim a share of the Western State Conference title and advance to the Southern California Regional playoffs for the second consecutive year. One of those victories — all of them essential — was a five-hitter that the 6'4" Shoemake threw against Oxnard, the only complete game by a Vaquero hurler all season.
The Regionals began with a single-elimination game between SBCC and Canyons at Pershing Park. After Canyons tied the score, 5-5, in the seventh inning, both teams kept making pitches and plays to prolong the desperate struggle. An epic duel evolved between relief pitchers Rich McCaffrey of SBCC and John Salas, who went 11 1/3 innings for the Cougars. It came to a climax in the bottom of the 16th. Mark Jebbia singled through the left side, and Zach Zehner raced home from second base, giving the Vaqueros a 6-5 victory.
Although weary after a game that lasted almost five hours, the Vaqueros celebrated as if they'd won the pennant. It was their last hurrah, as their next stop was a best-of-three series last weekend in Whittier against Rio Hondo, which extended its winning streak to 30 games by sweeping SBCC, 4-3 and 12-1.
UCSB saw its own hopes for the postseason dashed on the road, as a sweep by UC Irvine essentially knocked the Gauchos out of contention in the Big West race. They still have a lot to play for this weekend, as conference kingpin Cal State Fullerton comes into Caesar Uyesaka Stadium for three games.
Westmont College's baseball season ended in feel-great fashion. The Warriors, transformed from habitual losers by third-year coach Robert Ruiz, went 3-0 in must-win games at the close to the regular season to snag the last berth in the Golden State Athletic Conference Tournament. It was their first postseason appearance in 15 years. Expected to go out meekly, the Warriors upset top-seeded Azusa Pacific and were still standing on the penultimate day, when Concordia extinguished their last rally and defeated them, 6-4.
IRVINE DONS: Santa Barbara High grads had a big weekend playing for UC Irvine. Carson Clark led the Anteaters to the NCAA volleyball championship. The 6'5" senior was voted the most valuable player of the Final Four. Crosby Slaught won a pitchers' duel against UCSB's freshman ace Andrew Vasquez in Irvine's 2-0 baseball victory over the Gauchos. Dylan Axelrod, another pitcher with an SBHS-UCI pedigree, started for the Chicago White Sox on Sunday in Detroit. Trying to stick as the club's fifth starter, Axelrod struggled somewhat (six hits and two runs allowed in 4 1/3 innings), and the next day he was sent back to the minors.