Columns
Welcome to the New Isla Vista
Snazzy Additions
A new crop of UCSB students will arrive this weekend and encounter a downtown Isla Vista with a slightly different flavor. The funky, dilapidated storefronts are still present, but there are also some sleek additions.
First and foremost, visitors to downtown I.V. will notice the two apartment complexes, the Loop and the Icon, that have been built in the past year. People accustomed to I.V.'s rather run-down aesthetic might be shocked by the contrast between the old buildings and the new. However, the additions provide a much-needed sprucing up of the shabby vibe.
When you look at the attractive apartment complexes you get a feel for what downtown I.V. could be.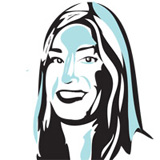 It's All About the Food
Along with the new housing has come the addition of a few restaurants. A Crushcakes & Café is now located at ground level on the Loop, and a Pizza My Heart is moving in next door.
When I had breakfast at Crushcakes the other day, I sat at a table on the sidewalk overlooking the park across the street. The food was great and so was the ambiance. I watched as the bakers finished decorating the day's cupcakes, mesmerized as they added the final touches to the fresh lime margarita and the peace cake.
A Hamburger Habit is also moving into a location on Embarcadero del Norte that has been home to a variety of other establishments providing sushi, hot dogs … you name it. The South Coast Deli, another recent addition to the I.V. food scene, is around the corner.
New Bank in Town: Chase has opened a branch in downtown I.V., on the corner of Pardall and Embarcadero del Norte, across from Freebirds. The outside of the building looks attractive, including artistic touches that blend in nicely with the surrounding architecture. While the bank provides a service for the residents in the area who may not have a car, it also brings in a welcome element: The people who work at the bank or come in for service may end up spending time in I.V. and partaking of what the area has to offer.
Little by Little, Things Improve: Several parks in the downtown area have been spruced up and renovated, and there is more in store. A new stage is planned for Anisq' Oyo', and talks are underway about adding some novel attractions to a nearby open space.
With the brand new buildings and variety of restaurants coming into the area, downtown I.V. is destined to become a place where students, residents, and even those from surrounding areas in Goleta will want to spend their time. In the future, we might see more students and office workers sitting next to one another at the local restaurants enjoying lunch and the beauty of the area.