Sports
West Coast Roundup
From Seattle Soccer Madness to S.B.'s Power Players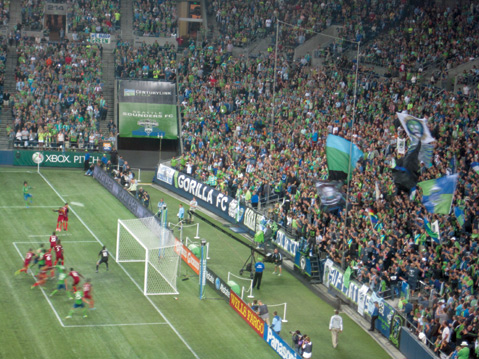 If UCSB's Harder Stadium is "Soccer Heaven," what do you call Seattle's CenturyLink Field, where a crowd of 55,107 turned out last Friday for a Major League Soccer (MLS) match between the Seattle Sounders and Real Salt Lake? The San Francisco 49ers might call it "Football Hell," because they were smacked down by the Seattle Seahawks in their NFL showdown at CenturyLink on Sunday.
While the soccer crowd comprised most of the dedicated Sounders fans in the northwest city, there are thousands more passionate Seahawks supporters than the 68,338 who occupied every seat for the NFL game. One of the loudest cheers at the MLS match erupted when the video screen spotlighted Seahawks quarterback Russell Wilson, a guest spectator who was wearing a Sounders jersey.
Still, the level of enthusiasm for pro soccer in Seattle reaches celestial heights. Before a big match, a European atmosphere blankets the city. A signature tradition is the "March to the Match." Wearing the Sounders' blue and green colors and waving flags, several thousand fans congregate near Pioneer Square, and, led by a 50-piece band, they swarm down Occidental Avenue five blocks to the stadium.
During the full 90 minutes of the match, at least 70 percent of the spectators are standing. They must yell, "Up in front!" at those who dare attempt to seat themselves. The most demonstrative fans, known as Emerald City Supporters, fill the south end of the stadium. They chant, sing, pump their arms in unison, and wave flags and banners throughout the match.
It was the seventh time the Sounders drew a crowd exceeding 50,000 for an MLS match, and their 2-0 victory over Real Salt Lake made them 7-0 on such occasions. After starting the season slowly, Seattle assumed the league's best record (15-8-6) ahead of Salt Lake (14-9-4). Obafemi Martins, an international forward from Nigeria, and homegrown midfielder Lamar Neagle scored the goals at the south end in the first half.
National team stars Clint Dempsey and Eddie Johnson took the field for the Sounders in the second half. They were not asked to play the full 90, because three days earlier, they had played in the U.S.'s 2-0 victory over Mexico in Columbus, Ohio, that clinched a berth in next year's World Cup in Brazil.
Meanwhile, back home in "Soccer Heaven" — college division — the UCSB men secured a much-needed 2-1 victory over the Pennsylvania Quakers in double overtime Sunday. Sophomore forward Charlie Miller scored the golden goal on a diving header off an assist from freshman Ismaila Jome. The Gauchos continue their homestand with matches against Yale on Friday night, September 20, and New Mexico on Monday night.
LUNCHEON FARE: To hear about what's been happening in area sports, I dropped in on the Santa Barbara Athletic Round Table's weekly press luncheon. The Monday luncheons, open to the public, have been a staple during every school year since 1970. They have almost always taken place at the Ranchero Room in Harry's Plaza Café, where a wall-mounted buffalo head looms over the proceedings.
I learned that the hottest team in town is the women's volleyball squad at Westmont College. The Warriors entered the week with a 12-0 record, the best start in the school's history, and are ranked No. 9 on the NAIA national poll.
Westmont's fourth-year coach Patti Cook, who looks like she could take a few good swings herself, is blessed with seven senior players plus an infusion of youth. Cook calls them "a very cool group of girls." Junior outside hitter Madison Serrano leads the team in kills, aces, and digs, while Ciara Turner and Ciena Colburn have been forces in the middle. Colburn is a junior out of Dos Pueblos High.
The Warriors host Arizona Christian in their Golden State Athletic Conference opener Saturday, September 21, 3 p.m. Admission is free to the match, which should be over in a hurry. But down the road, Westmont must face GSAC powers Concordia, ranked No. 1 in the NAIA, and Biola, No. 4.
In a major media market, Westmont's cross-country coach Russell Smelley might have made headlines for calling out 49ers coach Jim Harbaugh. He echoed the words of Pete Carroll, Harbaugh's rival in both the Pac-10 and the NFL: "What's your deal?" Smelley had a problem with the Visa commercial in which Harbaugh is screaming at youngsters. Smelley maintained every coach should be guided by "a written philosophy," one that does not condone abusive outbursts.
Second-year coach Anthony Linebaugh must be saying the right things to the San Marcos High football team. The Royals, 1-9 last year, will seek their fourth consecutive victory on Friday night at home against Hueneme. The Carpinteria Warriors, also 3-0, will host Santa Ynez, while undefeated Bishop Diego has a bye. Santa Barbara High (1-2) takes on Rio Mesa at Peabody Stadium. Coach Doug Caines said the Dons are looking to play "some regular-water-drinking kids" after last week's visit to Atascadero, where the water seemingly produces big and strong football players. The Dos Pueblos Chargers, coming off their first victory over Cabrillo, travel Friday to play Lompoc, another place where the school's water fountains appear to have alchemical powers.
SBCC football is also off to a strong start. The Vaqueros went to 2-0 with a 47-10 victory over East L.A. They will visit Compton on Saturday and return to La Playa Stadium against L.A. Valley a week later.
If you see teenagers running in groups along the roads, blame high school cross-country. Both Dos Pueblos and San Marcos have more than 100 athletes on their teams.
Hundreds of awards have been doled out at Athletic Round Table luncheons over the years. The top female and male athletes of the week are honored — take a bow, San Marcos golfer Melissa Jewkes and Dos Pueblos football standout Tyler Welch — and Monday's program included the recognition of David Kremer as Special Olympics Athlete of the Month. Laurie Leighty, who is beginning her two-year term as Round Table president, encourages people to investigate the all-volunteer organization at sbart.org.
VOLLEYBALL HEAVEN: The next stop on the Association of Volleyball Professionals (AVP) 2013 tour will be at Santa Barbara's West Beach on September 27-29. It will mark the debut of a dynamic women's team — April Ross becoming the new partner of three-time Olympic champion Kerri Walsh Jennings. Ross and Jennifer Kessy, the Olympic silver medalists last year, ended their partnership with victories in the AVP tournaments at Salt Lake City and Atlantic City. They also were finalists in last weekend's event at St. Petersburg, Florida, where severe weather wiped out the championship matches. Phil Dalhausser and Sean Rosenthal, the power team on the men's side, has been upstaged by Jake Gibb and Casey Patterson, winners of two tournaments and finalists at St. Pete along with former UCSB star Theo Brunner and Nick Lucena. Santa Barbara's Todd Rogers, who struck Olympic gold with Dalhausser in 2008, has had a runner-up finish (dropping a three-setter to Dalhausser-Rosenthal at Salt Lake City) and a pair of thirds with his new partner, seven-footer Ryan Doherty.