Drink
Farm-to-Bar: Thai Phün
A Gin-Based, Jasmine Flower-Infused Shrub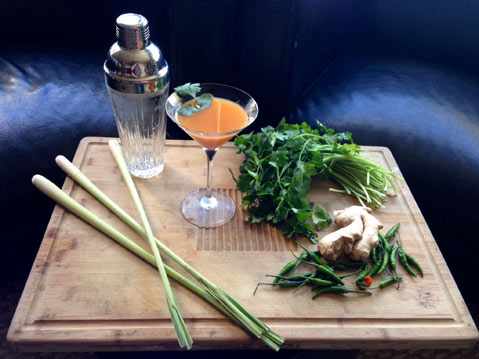 For the third entry of this four-part series saluting Santa Barbara's service industry, I give you the Thai Phün.
For this one, I went all the way back to colonial times and made a thing called a shrub. Farmers first started making shrubs purely for preservation. A little vinegar goes a long way, especially when refrigeration was usually the coldest corner of your basement.
What I did for my shrub was combine rice wine vinegar with a cold-pressed syrup of ginger, lemongrass, cucumbers, Thai chiles, and jasmine flowers. Cold-pressed syrups are fun because the only moisture used to liquefy sugar is from the fruits and vegetables in the mix. Think about simple syrup, now imagine the 1-part water being purely from your base muddling component. What's that equal? FLAVOR.
When sugar is sprinkled over any fruit or vegetable it extracts the moisture just like salt. It also liquifies itself and all you're left with is one part sugar to one part fruit water. A simple syrup that's not so simple but 100 percent flavor. Add gin (I'd use Hendrick's because of its cucumber notes) and garnish with cilantro. Then sense memories of a sweet night in Bangkok without the cute man-lady.
1 oz. Thai shrub (as described above)
4 oz. Hendrick's Gin
2 leaves cilantro for garnish
Serve in 2 martini glasses.