Positively State Street
EDM Bookers Are Sticking Their Necks Out
We the Beat and Speak Volumes Bring Giraffage to SOhO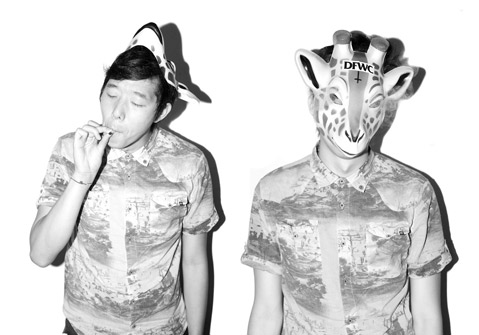 STICKING YOUR NECK OUT: It's not very often that we talk about the folks behind the scenes — the bookers, promoters, sound guys, and club owners who make Santa Barbara's music scene tick. With that in mind, it seems no better time than now to drop a long overdue shout-out to two of the area's newest movers and shakers. This Thursday, January 16, Speak Volumes and We the Beat bring San Fran electro artist Giraffage to SOhO Restaurant & Music Club, and if you're looking to dance, I recommend you mark your calendar. But more on that later. What's noteworthy about Thursday's show has more to do with the S.B. Big Picture. For the third time in almost as many months, We the Beat is bringing an electronic act into a space that has, up until now, featured almost exclusively live, instrument-playing bands and singers/songwriters. Yes, kids, it seems the tides are finally turning.
Late last year, Kirk Reed's We the Beat production project quietly popped up on our concert calendar, boasting shows from such digi-friendly acts as electro-popsters Carousel and L.A. beach-beat crafter Goldroom. (It stands to mention that both pulled near-to-completely sold-out crowds into SOhO.) In the months since, Reed has been plotting his next move, which includes a smartly devised collaboration with newfound S.B. music blog and print mini-mag Speak Volumes. Like WTB, Volumes focuses on the electronic — recent artist spotlights include producers John Talbot and Pablo Nouvelle, and remixes upon remixes upon remixes — but they're also waving the area-music flag with force. (S.B. acts Future Relic, Ghost Tiger, Gardens & Villa, and Ultraviolet have all made appearances on the site.)
Better still, both entities seem dead-set on bringing a new crop of music lovers into the scene through, well, pretty much all the avenues young people are using to access music nowadays. There are well-designed, easy-to-navigate websites. And updated Facebook pages. And image galleries. Tickets are actually just a click away. And the supporting acts are not only listed; they're highlighted. (Santa Barbara's Cub'b and Underbelly open Thursday's show.)
And about that show — if we're to believe what we hear on Bandcamp, it's going to be a wild one. Giraffage (aka Charlie Yin) dropped his Needs mixtape in early 2013, and since then he's been touring the world pretty much nonstop. Sonically, the easiest comparison to make is to Canadian DJ/producer Ryan Hemsworth. Here, R&B beats are sped up, slowed down, stretched, and shrunk to create moody, chilled-out soundscapes primed for the dance floor. Take, for example, lead single "Close 2 Me," which recalibrates Cathy Dennis's 1990 disco hit "Touch Me (All Night Long)" into a slinky and syncopated little slow jam built for bump and grind.
If you're looking to get your groove on, or simply show some support for S.B.'s newest live-music champs, the show starts at 9 p.m. Call (805) 962-7776 or visit giraffage.nightout.com for tickets and info.
BACK TO SCHOOL: Looking forward, the Isla Vista music goodies just keep on comin'. Following up last week's Chain & The Gang/Dub Thompson double-header, SBDIY is dishing out even more sonic goodness. On Thursday, January 16, the Biko Co-op Garage (6612 Sueno Rd., Isla Vista) hosts dreamy experimental pop auteur Stephen Steinbrink, whose sweet, lilting vocals remind us of a cross between Cat Stevens and The Shins. Folk pop acts Autococoon, Gossimer, and Lite Brite open. On Saturday, January 18, Biko opens the garage doors once more for Austin singer (and venue fave) Daniel Francis Doyle, who will share his quirky, Jonathan Richman–indebted tunes alongside openers Cave Babies and CJ Boyd. The shows are all-ages and start at 7:30 and 8 p.m., respectively. Visit sbdiy.org for info.