Dance
Random Dance Brings FAR to Santa Barbara
London-based Dance Company Performs at the Granada January 28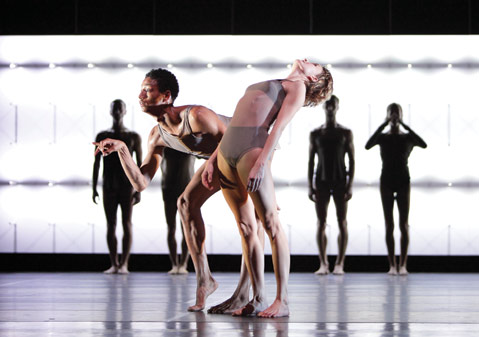 He's known for fast, forceful, technically demanding choreography with an underpinning of fierce intellectualism. Last in Santa Barbara with his London-based company Random Dance in 2012, Wayne McGregor returns next week with FAR, an hour-long work that draws inspiration from technology, neurology, and enlightenment ideas about the human body.
Not that you'd necessarily know all that from watching the work. McGregor's abstract, non-narrative dance may have its origin in high-minded concepts, but the result is a high-impact, viscerally compelling performance that speaks to the body as much as to the mind.
A great part of that effect is the dancing. Random's artists are without exception sleek, responsive athletes trained to a high level in both ballet and contemporary dance. They twitch and contort themselves with such refined articulation that they sometimes appear superhuman — beautiful androids whose movements are better, faster, and prettier than ordinary mortals.
Yet there's more to FAR than bodies in motion. There's also the music, a sweeping electronic score by Brian Eno collaborator Ben Frost, whose work is an ideal complement to McGregor's physical idiom: an aural language of fierceness and delicacy. Then there's the set — a computerized board of more than 3,000 LED sticks that blink on and off in patterns, creating an expressive, responsive organism all its own. Designed by Random International and Lucy Carter, the lighting is at times sensitive to sound, thus entering a conversation with the music and the dancers.
FAR doesn't feel brainy — it has the sheer impact of a rock concert — but the ideas that led to this work were sparked when McGregor read historian Roy Porter's 2005 Flesh in the Age of Reason (the work takes its title from an acronym of the book's). Porter traces the evolution of scientific thought from the superstition of the Dark Ages through the rationalism of the Enlightenment, when the study of human anatomy in particular transformed the way we think about our bodies. McGregor began showing up in the studio with illustrations of human organs and instruments used in early autopsies. He shared these with the dancers, creating movement tasks. Combined with McGregor's ongoing fascination with cognitive research, these movement studies stimulated a new exploration of body and mind.
"He was really exploring how the body works in connection with the brain," explained Random Dance's associate director, Odette Hughes, in a recent phone conversation. Hughes, who danced in the company for years, describes her current role as "standing back" to witness the creative process and then "stepping in" to realize the vision onstage. Once McGregor has created a work, Hughes directs rehearsals and coordinates with designers and collaborators to bring the work together. As she sees it, there's little need for audiences to understand the origins of a work like FAR; it speaks for itself.
Her invitation to audiences: "Come and look at the beauty, and then go away and consider what it might have been about."
FAR hits the Granada Theatre stage on Tuesday, January 28, at 8 p.m. For tickets, call (805) 893-3535 or visit artsandlectures.sa.ucsb.edu. McGregor will also lead a master class on Monday, January 27, at 5:30 p.m. at Sino West Performing Arts. To reserve a spot, call (805) 966-6950.