Pink is a small, soft, white, furry Chihuahua mix who was abandoned at the Santa Barbara County Animal Shelter, and now K-9 PALS is helping to her to find her forever home. Pink has very expressive eyes, and she loves people. She is a spayed female about 7 years old, about 8 lbs., and current on all her shots. Pink loves taking short walks every day, and she loves being a lap dog and enjoying the company of people. She also really enjoys soaking up the sun. She is very alert and learns new tricks for a small treat. She likes being in the car and will just curl up in the seat and enjoy the ride. Pink gets along with other dogs, but she would also like to be the top dog in a family, so being the only dog in the home would also be just fine with her. She might tolerate a mellow cat but probably not feisty or overly playful cats. She is eager to see the world so would love to be adopted soon so she can move out of the animal shelter and get on with her real life in the real world. Pink is just waiting for a kind and loving person, couple, or family with older kids to adopt her and give her the good life and forever home that she very much deserves.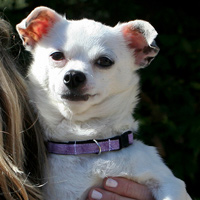 For information about adoption for Pink call Animal Services at 805-681-5285, and for information about K-9 PALS call 805-570-0415 or email adoptme@k-9pals.org. To view all dogs for adoption from K-9 PALS and courtesy posts for dogs from the County Shelters and other rescue groups, visit the K-9 PALS website at www.K-9PALS.org.
K-9 PALS – K-9 Placement and Assistance League, Inc.- is the all-volunteer nonprofit 501C3 no-kill organization working on behalf of homeless and abandoned dogs in shelters in Santa Barbara County and Southern California. K-9 PALS provides veterinary care, training, rescue, foster, transports, adoption, and advocacy for homeless and abandoned dogs from Santa Barbara County shelters and other shelters in Southern California. K-9 PALS has Adoption & Community Outreach and other special events throughout the year.
K-9 PALS provides four free dog behavior training sessions for people who have adopted a dog from any shelter, rescue group, or humane society. So when you adopt a dog, please contact K-9 PALS at info@k-9pals.org or 805-570-0415 if you want to take advantage of this great offer.
If you are not looking to adopt, please consider being a donor or volunteer for K-9 PALS to help us in our mission to provide care and services for homeless and abandoned dogs from county shelters. All K-9 PALS donations go directly to benefit the dogs to save lives and reduce the number of abandoned and homeless dogs in our county shelters. K-9 PALS, P.O. Box 60755, Santa Barbara, CA 93160-0755.
For more information about K-9 PALS go to www.K-9PALS.org, or K-9 PALS on Facebook. Donations are gratefully accepted through PayPal, or by mailing to K-9 PALS, P.O. Box 60755, Santa Barbara, CA 93160-0755.