Dance
Review: Cirkopolis at the Granada Theatre
Cirque Éloize Show a Joyous Triumph on Monday, February 23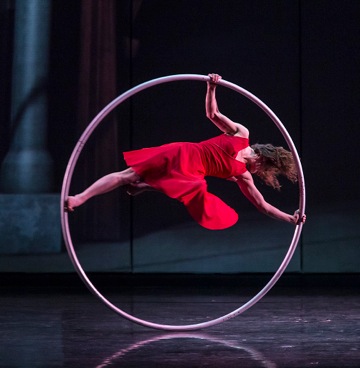 Deep beneath a futuristic city, levers clank and giant gears groan into motion. Figures in grey trench coats scurry past carrying piles of paperwork. It's here that we meet our hero, a man who transforms his monotonous desk job into a rollicking comic adventure.
In Cirkopolis, the latest production from Montreal's Cirque Éloize, the soulless, mechanized city is no match for the intrinsic joy of the human spirit. Slowly but steadily, this one man's cheerful resistance spreads: marching lines break into elaborate tumbling routines, and drab layers get peeled off to reveal brilliant colors beneath.
"Cheerful resistance" could be the motto for this extraordinary group of artists. What makes this production — and this company — so completely beguiling is the absence of emotional vacancy too often found in the entertainment industry. For all the excitement and sensation of Cirkopolis — world-class acrobats performing spectacular feats against a constantly shifting backdrop of stunning digital video projections — this show feels human, even intimate. Never do special effects, flashy costumes, or tricks of the light eclipse the love of these 12 young artists for their craft or for each another.
This quality of genuine investment is particularly evident in Angelica Bongiovanni's solo on Cyr wheel. In a poppy red dress, bare feet, and hair falling to her shoulders, Bongiovanni seems to woo her instrument, handling it with a delicate touch as she builds from simple manipulations to virtuosic mastery of the instrument; hanging from its edge and dancing along its rim as the wheel spins and rolls through 360 degrees. There's no illusion or embellishment here, and as the lyrical solo evolves, its beauty and authenticity completely overpower the stage, while everything else falls silent and still.
Not everything moment in Cirkopolis is so poetic, though. There's plenty of raucous fun, too, from a big band-backed group juggling routine to a comic duet for Chinese pole, and finally to the bodies flying through the air in the show's thrilling teeterboard finale. Yet even in the midst of the most breathtaking feats — an entire dance conducted without touching the ground, a soaring back flip that lands atop a wavering tower of bodies — the quality of joyful engagement never wavers.