Food & Drink
Veggie Delights at Meat-Minded Restaurants
Ca' Dario, Arlington Tavern, and The Palace Grill Offer Options for Everyone
As a vegetarian, I often find it difficult to agree on a restaurant with my nonvegetarian friends and family. Brasseries, breweries, and burger joints rarely have any vegetarian options. And steakhouses? Forget about it.
So I'm happy to report that vegetarian diners who are hungry for more than just the bread basket can now check out Ca' Dario, Arlington Tavern, and The Palace Grill. Italian, classic American, and Cajun cuisines might seem like they have little in common, but rest assured that these restaurants are pleased to accommodate vegetarians and nonvegetarians alike.
Arlington Tavern: "Some restaurants tend to shy away from vegetarian dishes, but we are in the hospitality business," said Ron True, head chef and owner at Arlington Tavern (21 W. Victoria St.; [805] 770-2626; arlingtontavern.com), and that's what makes his restaurant so unique. The menu's grilled tofu main course is a welcomed change for vegetarian diners who are tired of house salads being their only option at nonvegetarian restaurants. The dish contains hearty strips of tender grilled tofu on a bed of locally grown market vegetables, rice pilaf, and a ponzu sauce.
"I have friends who are vegetarian," True said, "so I want this place to be available for them to come in and get a dish like that." Serving tofu at a tavern is a brave move, but with flavors that pop and a perfect combination of comfort and originality, the dish is gaining popularity. "We sell quite a bit of tofu," True said, "and people come in specifically for it."
Ca' Dario: Ca' Dario (37 E. Victoria St.; [805] 884-9419; cadario.net) opened in 1997 to overwhelming success — so much so that head chef Dario Furlati eventually opened a pizzeria next door to accommodate all his customers. "Our food is fresh and prepared in the moment," said Furlati when asked what made his place such a hit. "We don't cut corners."
The native Italian upholds his homeland's tradition of keeping dishes fresh and light, which is all too important when it comes to vegetarian food. "In Italian cooking, anything can be made vegetarian," he said of the cuisine's adaptability.
For his vegetarian clientele, he recommends a fusilli pasta alla puttanesca. With organic produce — Kalamata olives, red and yellow tomatoes, capers, and parsley — and a light dusting of grated pecorino cheese, a simple pasta dish comes to life. When it comes to pasta, it is all too important to add a range of colors in order to make it not only healthy but also exciting. The dish is effortless and inviting, as if meant to be enjoyed on a sun-drenched Riviera terrace. Guests can also customize their order by requesting whole-wheat or gluten-free pasta.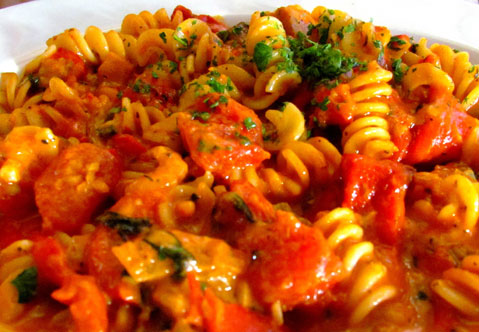 The Palace Grill: The Palace Grill (8 E. Cota St.; [805] 963-5000; palacegrill.com) opened 29 years ago and was quickly adopted as a hometown favorite. "It was unique because we were bringing regional Cajun cuisine to Santa Barbara," said Errol Williams, who, as the restaurant's general manager, is also proud of winning the award for best service in Santa Barbara 26 times since opening in May 1985.
What diners might not know is that The Palace Grill offers more than old-style jambalaya, shrimp gumbo, and the other meat- and seafood-heavy dishes that typify Cajun cuisine. Williams recommended the fusilli al fumo, a pasta dish with roasted eggplant and red peppers, smoked mozzarella, and a sweet tomato basil cream sauce. It maintains the spicy flavors of Cajun cuisine, and the dish gives off a zesty Southern flair that is not often found in vegetarian cooking. Not your traditional Italian pasta, the fusilli al fumo is one of the restaurant's dishes that give vegetarians a genuine taste of the South.