Briefs
Crash Landing at Santa Barbara Airport
A lone pilot suffered a minor hand injury when crash landing his twin engine airplane at the Santa Barbara Airport on Monday, averting what could have been a much worse disaster.
The ordeal began around noon when the pilot of the Piper PA23-250 was about to land at the Oceano Airport in San Luis Obispo County, only to discover that the landing gear was not operational. Since that small airport did not have sufficient emergency resources, the plane was directed to the Santa Barbara Airport, which was alerted by the pilot to the situation at 12:23 p.m. and began assembling the emergency gear and personnel.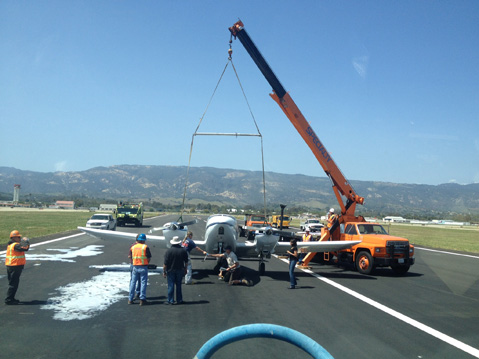 Upon approach, the pilot tried two backup landing gear deployment tactics, and the tower was able to confirm that the gear had dropped, but did not appear to be in a locked position. With emergency crews in place, the pilot tried to land the plane. The nose and left side landing gear held firm, but the right side's wheels did not, collapsing on impact.
The pilot was able to safely exit the plane with just the minor hand injury, and then the crews noticed leaking fuel, which they hit with foam to stop ignition. The runway was closed for several hours and the plane was towed away. The runway was cleaned up and the materials disposed of properly, according to the Santa Barbara City Fire Department.