Corbin California Estate Grown Sweet Potato Vodka: It takes 10 pounds of sweet potatoes per bottle — that's several Thanksgiving feasts for 750ml — to make Corbin. But it's worth it if you want a vodka with some character and not just some odorless, colorless spirit. It's very smooth, with flashes of nut flavors and that sweet potato sweet that's a deeper sugar.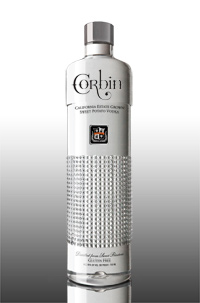 Grown and distilled in the San Joaquin Valley from a fifth generation farmer who named the vodka after his son Corbin, this spirit couldn't be more artisanal, entrepreneurial, familial, and Californian. Plus it's gluten-free, which makes it current hyper-Californian.
Vivid enough on its own you can chill it and sip it, make vodka martinis with it, or let it give a kick to any vodka drink that usually hopes to sneak some base of 80 proof something in without causing issues. This will cause more flavor, so what's wrong with that? See sweetpotatospirits.com.