Sports
Foresters Find Spunk in Hitting Coach Dmitri Young
Former Major Leaguer Now Serving as "Hype Man" for Santa Barbara's Semipro Baseballers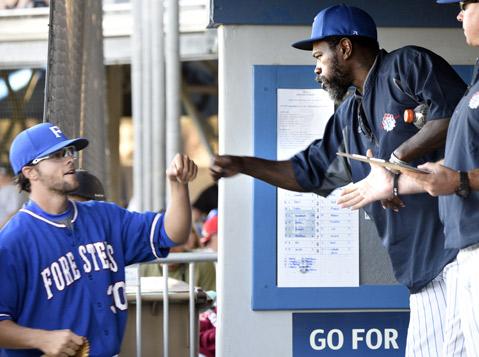 As each starting player for the Santa Barbara Foresters was introduced by the public-address announcer, Dmitri Young voiced his approval in the Foresters' dugout.
"Yay!"
"Yee-haw!"
"Oooh-yeah!"
"Hey-yah!"
Young then leaped to his feet and slapped hands with every Forester player and coach along the bench and the dugout railing. "Ass-whuppin' … Ass-whuppin'" he repeated over and over.
"I'm the hype man," Young said when he settled back down to watch the first pitch. "That's what I was when I played. We get to play ball. What could be more fun than that?"
In his first year as the Foresters' hitting coach, Young brings an animated energy that makes longtime manager Bill Pintard seem subdued. He also brings a wealth of experience. "I didn't have a cup of coffee in the major leagues," he said. "I had a career."
Young played in 13 major-league seasons with the Cardinals, Reds, Tigers, and Nationals. He was a two-time All-Star (2003 and 2007). Among his memories are the three home runs he swatted on opening day in 2005 and the two-home-run, two-triple game he had in 2003. He also had a single in that game and would have hit for the cycle if he'd shortened the second triple to a double. "It was the ninth inning, we were tied, and I took third," he said. "The last thing you want to do is dog it."
Young was one of the heaviest players in major-league history (nicknamed "Da Meathook"), sometimes topping 300 pounds. Diagnosed with type 2 diabetes in 2006, he seriously addressed the condition in recent years and has shed 100 pounds through diet, exercise, and sobriety. "I'm living Part Two of my life now," he said. "But I have no shame, no regrets about the past. It's called living."
Pintard tagged Young to replace his great friend and long-time hitting coach Gary Woods, who died in February. "Bill Pintard sold me on the Foresters," said Young, who lives in Camarillo. "We have quality college kids. There's no egos here. I don't walk around like, 'Hey, I'm Mr. Baseball.'" He said that much of his coaching concerns "how to prepare yourself mentally."
Maintaining a playful attitude is a big part of Young's approach to the game. "Dmitri is the funniest guy in the world," pitcher Troy Cruz said. "He's not afraid to say what's on his mind. He's always jumping around."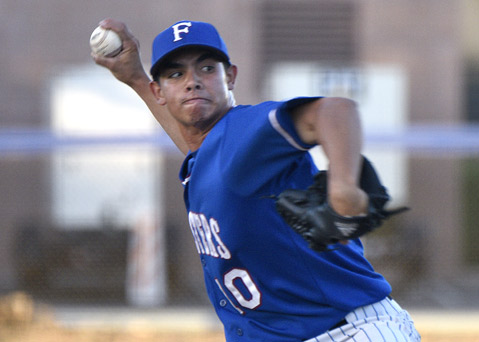 Cruz is one of six players returning from last year's Foresters, who brought the club's fifth National Baseball Congress (NBC) championship trophy to Santa Barbara. Cruz pitched the last 2 2/3 innings of the final game in Wichita, a 3-2 victory over the Seattle Studs in 12 innings.
"It was the highlight of my baseball career for sure," said the right-hander from UC San Diego. "I was at the bottom of the dog pile after the last out. I was so amped up. I couldn't see anything, feel anything, smell anything. It was pure joy."
On the mound, Cruz might be called "The Small Unit." He's listed generously at 5'8" and 160 pounds. He has the quality that Pintard values most: "a big heart."
The Foresters will return to Wichita in August to defend their NBC title. "I'm looking forward to the bus ride and 10 days in the hotel," Cruz said. "There are a lot of stories to be told."
This season is shaping up rather nicely for the hometowners. After sweeping the South Bay Saints last weekend, the Foresters had a 14-2 record. In their 9-3 victory on Saturday, a pair of sluggers from Tulane University — catcher Jeremy Montalbano and pinch hitter Lex Kaplan — made sweet, sharp sounds with their wooden bats as they drove balls over the outfield fence at UCSB's Caesar Uyesaka Stadium.
Before Sunday's game, which they won 8-0, the Foresters retired Gary Woods's number 41. It was the 43rd birthday of Pintard's son Eric, who died in 2004 of cancer and is the inspiration for Hugs for Cubs, the team's program of activities for children with cancer. As Pintard said on Facebook, "What a special Father's Day! … Humm Baby."
The Foresters will be playing home games every weekend between now and their regular-season finale on July 26. They take on the Walnut Creek Crawdads this weekend (June 26-28) at 5 p.m. Friday and Saturday and 1 p.m. Sunday.
BLACKOUT, SEASON TWO: On my way home from the Foresters game Friday, I stopped to quaff a brew at the Dutch Garden. I would have liked to watch the Dodgers-Giants game, but there is no TV in the restaurant — which makes it an ideal place to hang out when the Dodgers are playing a game that you couldn't see anyway.
DRAFT INFLATION: Dmitri Young was the fourth overall pick out of Rio Mesa High in the 1991 major-league draft. He received a signing bonus of $385,000. His brother Delmon Young, 12 years his junior, was the No. 1 pick out of Camarillo High in 2003 and signed with Tampa Bay for $3.7 million. Delmon now plays for the Baltimore Orioles. UCSB's junior pitcher Dillon Tate was the fourth player chosen in this year's draft. He received a signing bonus of $4.2 million — reportedly below market value — from the Texas Rangers. Tate has been assigned to begin his professional career with the short-season Spokane Indians. The Gauchos had nine other players named in the draft, including junior pitcher Justin Jacome, who went in the fifth round (146th overall) to the Florida Marlins.
ON THE WATERFRONT: Around the hub of Leadbetter Beach park, hundreds of runners will be traversing the waterfront Saturday morning (June 27) in the new Santa Barbara Half Marathon. It's run on the 13.1-mile course that the original S.B. Half Marathon (now part of the Veterans Day Marathon in November) followed until 2009.