Make Myself at Home
Make Myself at Home: Cute Cottages Close to Home
Beach Properties in Montecito and Carpinteria Promise Nearby Vacations
Addresses: 1366 Danielson Road, Montecito, and 891-893 Concha Loma Drive, Carpinteria
Status: On the market
Prices: $1,099,000 and $1,500,000
I lovingly call my little one-bedroom house a cottage. It has a compact kitchen, a bathroom with a claw-foot tub, a living room, a dining room, and a bedroom. It has a porch in the front and a little fenced yard in the back. It's not a "tiny house" by any means, but it is cozy.
Any time that it feels too cozy, I head to the beach. Truth be told, I get to the beach almost every day. The surf and sand is our beautiful backyard, and it's one of my favorite aspects of living here. I guess the only thing that might be even better was if my little cottage were actually at the beach. I'm not complaining by any means, but if I could ditch the car and just walk to the beach, life might be even more perfect. With that fantasy in mind, I recently visited a couple of cottages for sale in particularly prime beach locations.
The house at 1366 Danielson Road is technically a condo but exudes more cottage-like charm than almost any home on the market. First off, it is the most discreet open house I've ever visited. Only one sign pointed visitors into an enchanting enclave of four small houses with a lovely garden in the center. Through an arched trellis in the back corner sits this two-bedroom, one-and-a-half-bath cottage.
At more than 1,100 square feet, it is cozy but comfortable. I'm told that the current owners raised their family here, and walking through this home, I can believe it. In addition to the pretty shared landscaping in front, it has a private fenced backyard with a hot tub. The living room greets visitors with its vaulted open-beam ceilings and a lovely fireplace. Other surprises include a walk-in closet in the master bedroom, a separate laundry room, and the unexpected bonus of air conditioning.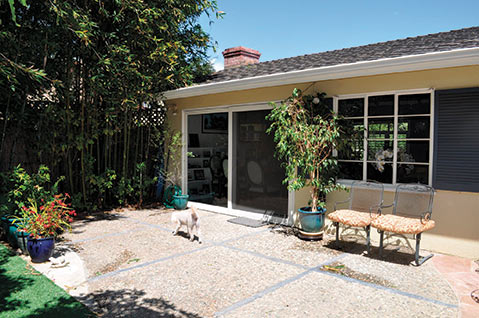 One of the main attractions is the location. This home sits in the Montecito Union School District and is literally just steps from Butterfly Beach. The beach side of 101 in Montecito has always felt like a secret surfer paradise to me, with trails to Hammonds and pristine spots that only materialize when the tide is right. This little cottage is in the perfect place to enjoy that allure, plus all of Montecito's well-known amenities. 1366 Danielson is priced at $1,099,000.
A little farther south is a pair of cottages on Concha Loma in Carpinteria. Most of us think of Linden Avenue with its charming shops and restaurants, plus the campground and the world's safest beach, when we think of Carpinteria. Just a little farther away from the hubbub and the spotlight, Concha Loma is part of the even beachier side of Carp. Down past the middle school and across from the Motel 6 is a more rural micro-neighborhood with fewer people and more of a surfer vibe. It shares the same renowned beach by a lesser known, lesser trafficked access.
At 891 and 893 Concha Loma sit a pair of board-and-batten cottages on a half-acre parcel with a rural look and feel. Separated from each other by a wide driveway lined with rustic river rocks, the cottages are almost a mirror image of each other, with three bedrooms each. One has a bonus family room; the other has a fenced backyard area. Both have covered carports, and there's plenty of off-street parking for visitors, as well.
The land these homes sit on is beautiful, with cottonwood trees and an artesian well. It reminds me of visiting my grandmother's house in the country when I was a kid — lots of room to run around and adventures awaiting. The cottages are simple: plain wooden walls and floors with basic kitchens and amenities, and just one bathroom each. They definitely have a vacation-at-the-beach feel in a neighborhood that feels the same. The two cottages are one listing with an asking price of $1,500,000.
Both of these sets of cottages have been owned by the same families for approximately 30 years. Visit either of them and you'll see why. When you find your own slice of beachy paradise, why would you want to live anywhere else?
Whether you fancy Montecito or Carpinteria, these cottages offer the ultimate beachfront living. I'll stick with my cozy cottage for now, but you might find me walking by either of these houses, just about any day, on my way to the beach.
1366 Danielson Road is currently for sale in Montecito, listed by Julie Barnes and Jeff Oien of Village Properties Realtors. Reach Julie at 895-9498 or Jeff at 895-2944 or visit julieandjeffrealtors.com.
891-893 Concha Loma Drive is currently for sale in Carpinteria, listed by Robert Kemp of Village Properties Realtors. Reach Robert at 259-6318 or visit robertkemprealestate.com.