Make Myself at Home
Make Myself at Home: Brand-New Downtown Craftsman
Take a Look Inside This Charming Home in the Center of Downtown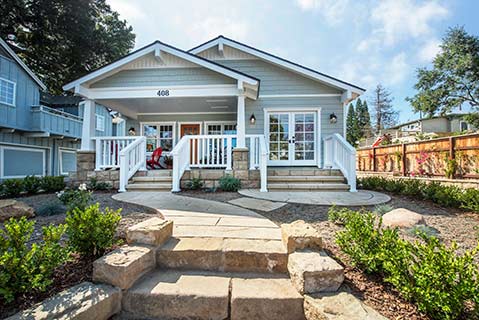 Address: 408 West De la Guerra Street
Status: On the market
Price: $1,595,000
I have a new favorite block in downtown Santa Barbara. Coming home from the beach last weekend, I saw an open-house sign on Bath Street. Happy to spend a bit more time out in the sunshine, and easily swayed from my intended errands, I made a detour around the block to discover not one, nor two, but three for-sale signs on the little cul-de-sac formed where West de la Guerra Street meets the freeway beyond Castillo Street. Two of the signs hung in front of handsome, vintage-style condominium complexes, but one sign stood in front of a beautiful, gray-and-white, single-story craftsman home. The front door stood wide open, with flags and balloons drawing attention. There was no question which house was open and available to view.
The house at 408 West de la Guerra is a single-family home that is unique in a number of ways. First, and most notably, it is brand-new. Built in 2016, it is a craftsman in style and appearance but with all new construction. In Santa Barbara, the novelty of a brand-spanking-new home located smack-dab in the heart of downtown is rare. To get State Street convenience, one almost always has to adopt a lovingly used, hand-me-down home. Conversely, any brand-new residence will almost certainly necessitate a drive to get downtown. Whether one considers the bull's-eye of Santa Barbara's map to be the Courthouse Sunken Gardens, the dolphin fountain at Stearns Wharf, or somewhere in between, you're not going to find much in the way of new construction within the city limits, much less within a quick walk to City Hall.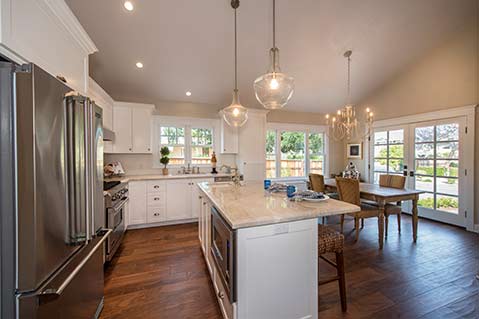 The layout of this house is also noteworthy and quite different from the ranch-style homes of the Brady Bunch era. Baby boomers will remember the floor plan of many '70s California tract homes, with the kids' bedrooms on one side, the parents' wing on the other, and common entertaining space in the center. The place at 408 De la Guerra has a more linear layout. The living room, dining room, and kitchen take center stage, combined as one great room in the very front of the house. These rooms compose a warm, welcoming space. Walls of windows let the sunlight stream in, the wide front porch extends the living room footprint, and a huge fireplace anchors one entire wall. The gourmet kitchen sports Viking appliances and a big center island, with a breakfast bar that's sure to be a gathering place for meal preparation and conversation, as well as simply dining.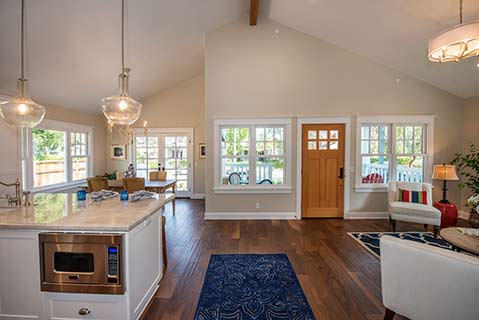 From the great room, a long hallway extends straight back, with the bedrooms and baths branching off from this main artery. When I was in St. Louis recently, a house with a similar layout was referred to as a "four back." In my Gaucho days, we called some of the houses on Del Playa "bowling alleys," in deference to their long, narrow footprint. This shape works for this home. Each of the three bedrooms has its own attached en suite bathroom, lending privacy and versatility for various family or extended-family living situations.
Walking through the back of the house — either exiting out French doors off the back bedroom, or a side door onto a patio next to the long, paved driveway — one encounters a large two-car garage. The sight of a brand-new garage is rare indeed in Santa Barbara and creates a beautiful clean slate of possibilities, whether you want to actually house cars in it or use it as a workshop, studio, or craft space — or whatever your hobbies and lifestyle desire.
Beyond the garage is a completely detached fourth bedroom with another half bath and its own fenced yard and patio. Ideal imagined uses for this space would be a yoga studio or gym, a teenager's private quarters, or a perfectly separate yet right-at-home office.
All of the rooms have gleaming walnut floors and high, vaulted ceilings with wooden ceiling fans. There's a bright, beachy, vacation-home feeling throughout, emphasized when sunlight pours in through the plentiful wood-framed windows.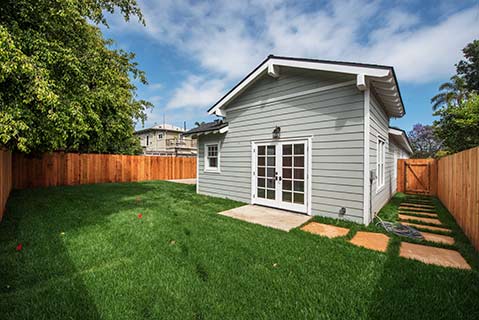 No matter who is lucky enough to claim this wonderful new home, the location provides walkability to restaurants, theaters, the summer outdoor movies at the Courthouse, and a front-row seat for Fiesta. It's less than a mile to the beach and only two blocks to Paseo Nuevo and the grocery store.
Best of all is the block itself. As I left the open house to get back on track with my slightly delayed errands, kids were playing basketball in a hoop set up on the cul-de-sac, and a neighbor pushed a baby stroller down the street. Towering palm trees flank grand Victorians across the way, and a beautifully restored craftsman waits right around the corner. It's a neighborhood with a mixture of rentals and proudly owned single-family residences. In every case, these are people who appreciate being in the heart of downtown Santa Barbara, where errand destinations and distractions both abound.
408 West De la Guerra Street is currently for sale in Santa Barbara, listed by Ann Zafiratos of Berkshire Hathaway HomeServices California Properties. Reach Ann at (805) 448-4317 or azafiratos@bhhscal.com.