Make Myself at Home
Make Myself at Home: Surprising Hope Ranch Annex Home
Hope Ranch Annex Home Is Full of Surprises
I attended one of my favorite annual fundraisers on Sunday: the Foodbank's Empty Bowls event at the Ben Page Youth Center. A simple meal of soup and bread dished up by apron-clad volunteers and served in donated handmade ceramic bowls. After each seating, cookies are served and tours are given of the Foodbank's on-site warehouse. The location is in the no-man's land between Goleta and Santa Barbara, near where Hollister meets State Street and Modoc splits off toward Hope Ranch. Usually referred to as Hope Ranch Annex, this region is convenient to everything and even has its own school district.
As I was leaving the Empty Bowls event, I stumbled onto an unexpected open house. Located at 4471/4473 Hollister is a mini-estate full of surprises. Although its
address is busy Hollister Avenue, once you step inside the house and close the door behind you, you're in your own peaceful, secluded oasis.
I stepped into the foyer and found myself in a living room with a striking fireplace flanked by French doors offering a view into a parklike backyard. This central room feels cozy despite its vaulted ceilings and provides an anchor to the two separate wings of the home on either side, as well as a peek of the staircase leading downstairs.
Through an arched doorway to the left is a huge gourmet kitchen with a large island, glass-fronted built-ins, and white cabinetry providing a contrast to the natural wood cathedral ceiling. An eat-in dining area and seating at the counter ensure that this room will always be the busy heart of this home.
The master bedroom suite is tucked behind the kitchen and offers both a private patio off the side and access to the backyard. The master bath has the best of both worlds, with a deep, freestanding bathtub and a glass shower enclosure.
Two more bedrooms and a bath sit in a separate wing on the other side of the house. A loft sleeping area accessible only by a ladder is sure to make one of these bedrooms a hit with toddlers through teens. The other bedroom has a separate entrance, offering private access for various split living situations.
Having been told that the home has a basement, I was eager to explore downstairs, expecting storage or maybe a laundry room. I descended the central staircase to find an elegant three-room suite, currently set up as a family room, plus a bedroom and bath. The basement rooms could also be configured into a teenager's fantasy downstairs hideaway, a home gym, an art studio, or just about anything else.
With this many options in the main house, I was again surprised when I walked outside to discover not only a full guest house but also a separate studio set up as an office with laundry room. The backyard also includes a lovely green lawn, a lower level with a rabbit hutch or chicken coop, and a brick patio area with a fireplace and a soothing, decorative fountain.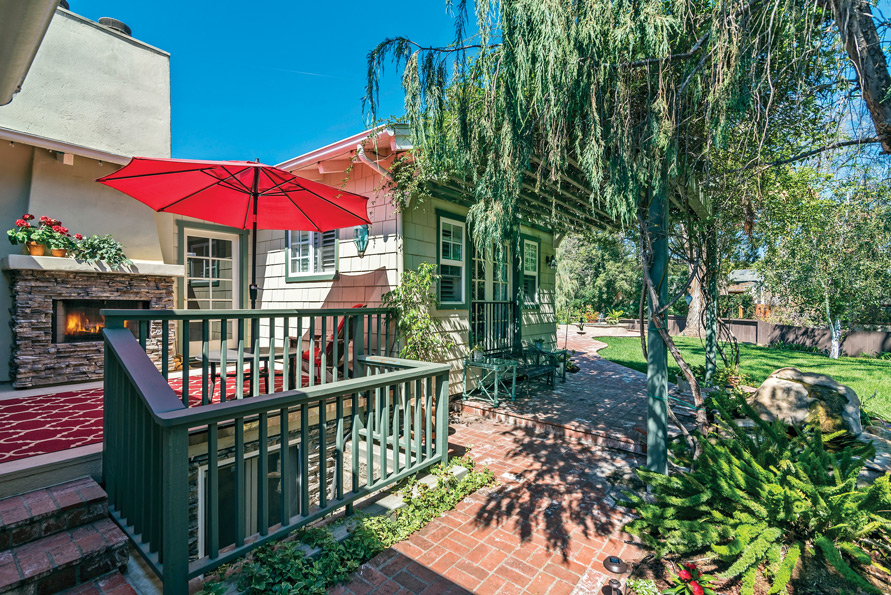 The guesthouse charmed me immediately, with Dutch doors both front and back offering views of the yard and bringing the sights and sounds of the outside in. The two-room house is split into a separate bedroom and a living room that contains a compact kitchen. The guesthouse has its own address (4473 Hollister Ave.) and very private access down the side of the main house. I'm sure I'm not the only person to visit this mini-estate and think that the guesthouse would be plenty of living space for me.
As I finished my unexpected visit to this lovely listing, I noticed guests still arriving to the Foodbank fundraiser down the street. I was glad that I got an early start to that event, and fortunate to have added a detour to discover this lovely mini-estate at an unexpected address in the same neighborhood.
4471/4473 Hollister Avenue is currently on the market in the unincorporated area of Santa Barbara, listed by Pamela Taylor of NextHome Preferred Properties. Reach Pamela at (805) 895-6541 or paminsb@me.com.