Make Myself at Home
Make Myself at Home: Designer Condo at the Beach
Designer Montecito Beach Condo
When I visited the condominium for sale at 51 Seaview Drive in Montecito last week, I took my shoes off not once but twice. The first time I removed my shoes was before walking in the front door. Open house etiquette often entails a request to doff one's footwear or to cover your shoes with special paper booties. This is understandable. Multimillion-dollar homes whose floors have been polished and carpets coiffed can't afford to have umpteen pairs of shoes tromping through and leaving footprints and scuff marks. I didn't want my sandals to leave a dusty trail, so I gladly slipped them off so that I could traipse through with abandon.
I soon forgot my feet, however, as this stunning abode quickly had me under its spell. The home is a designer's dream. Every detail, surface, and fixture has been considered with care and expertise. The front door opens to a foyer with options to enter the living room, kitchen, or a half bath. Peeking through to the right, I couldn't help but check out the living room first. Soaring ceilings and dramatic lines framed a view through floor-to-ceiling windows outdoors to the eucalyptus grove and ocean beyond. The room is artfully lit, showcasing a sleek wet bar and uniquely beautiful fireplace made of light wood wrapped in steel. The details begged to be admired, but before walking all the way in, I decided I should start at the beginning.
So I swung into the little powder room off the foyer. Built-in shelves and designer fixtures made stylish use of the small space. I was about to move on when I realized that hidden behind the far wall was a full laundry room waiting subtly out of view. That's when I realized that this space offered much more than at first meets the eye.
Walking slowly through the living room to the kitchen, I admired the high-end appliances, smooth radiant cooktop, muted colors, and subway-tiled backsplash. When I remarked that the light wood cabinets seemed to match the fireplace, I learned that the wood indeed was the same. All of the wood throughout the home is a vertical-grain white oak, which is light and lovely and lends a contemporary and consistent look as one walks from room to room.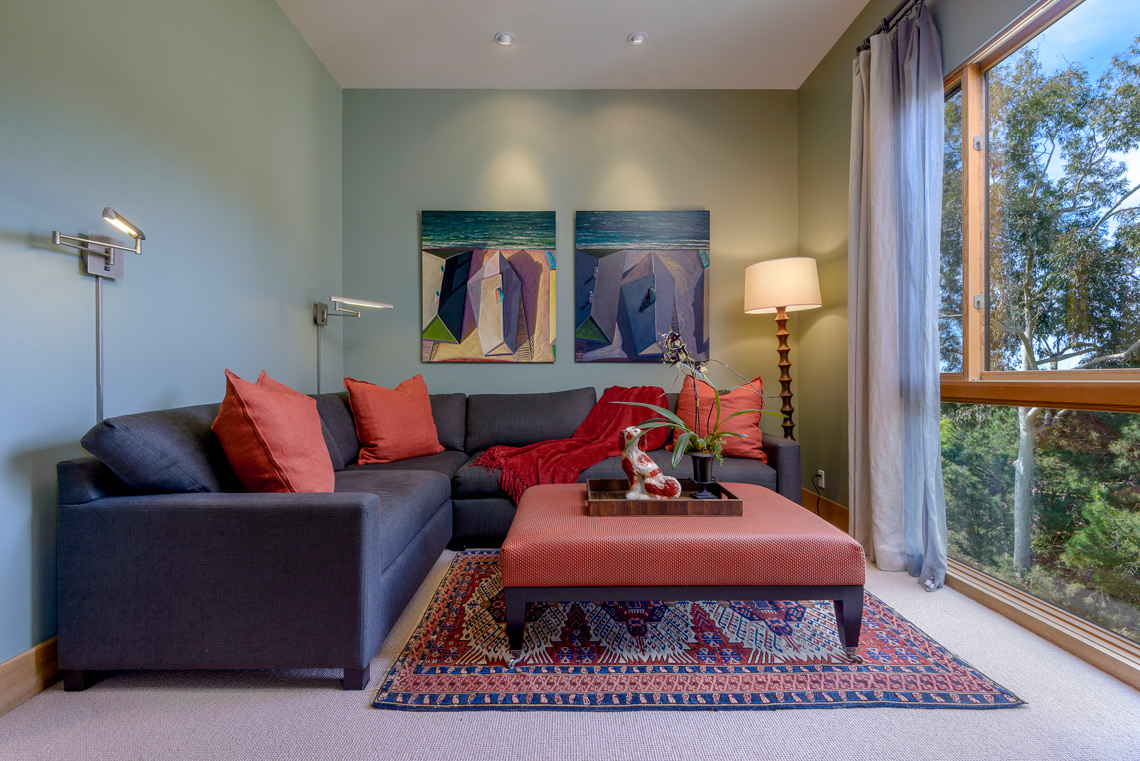 Nothing seems to have been left to chance in this home. Just about every surface has been meticulously redone in the past few years by the current owners. The ceilings were raised, new doors and skylights were added, and the rooms were enlarged by enclosing the terrace patios. These updates give the home an even more generous floorplan, and the outdoor feeling is preserved because the floor-to-ceiling windows open to let in the ocean breezes.
Beyond the living room is an ocean-view dining area and a den with sliding pocket doors that easily create either separate defined spaces or remain open to allow the flow from one room to another.
The guest bedroom features a Murphy bed and is also closed off by curtains over a sliding glass pocket door — quiet enough to keep the grandkids' noisy antics inside when being used as a bedroom but easy to convert to general living space when no guests are in residence.
The master bedroom and bath are a sanctuary unto themselves. The spacious bedroom contains a custom alcove with an ocean view, perfect for a reading nook or seating area. The adjoining bathroom has two walk-in closets, one of which is currently used as an office. As the most private space in the home, it provides a quiet work space that can be closed off yet still has an ocean peek out the window. The bathroom itself features cabinetry made of the same white oak, a gray-marble double-sink vanity, and a gorgeous, oversize walk-in shower.
Having ogled every room, I prepared to leave but kept noticing additional details at every turn. As I rescued my shoes and started to tiptoe out the front door, I was shown one more delight: The entryway mirror opens to reveal a cunning cabinet hidden behind, perfect to stow your keys.
Have I mentioned the location? This unit is on the top floor of the desirable Montecito Shores condominium complex, tucked behind Bonnymede, right across the street from The Biltmore and Coral Casino. The community offers a pool, clubhouse, tennis courts, gated access, and arguably one of the loveliest stretches of beach in the area.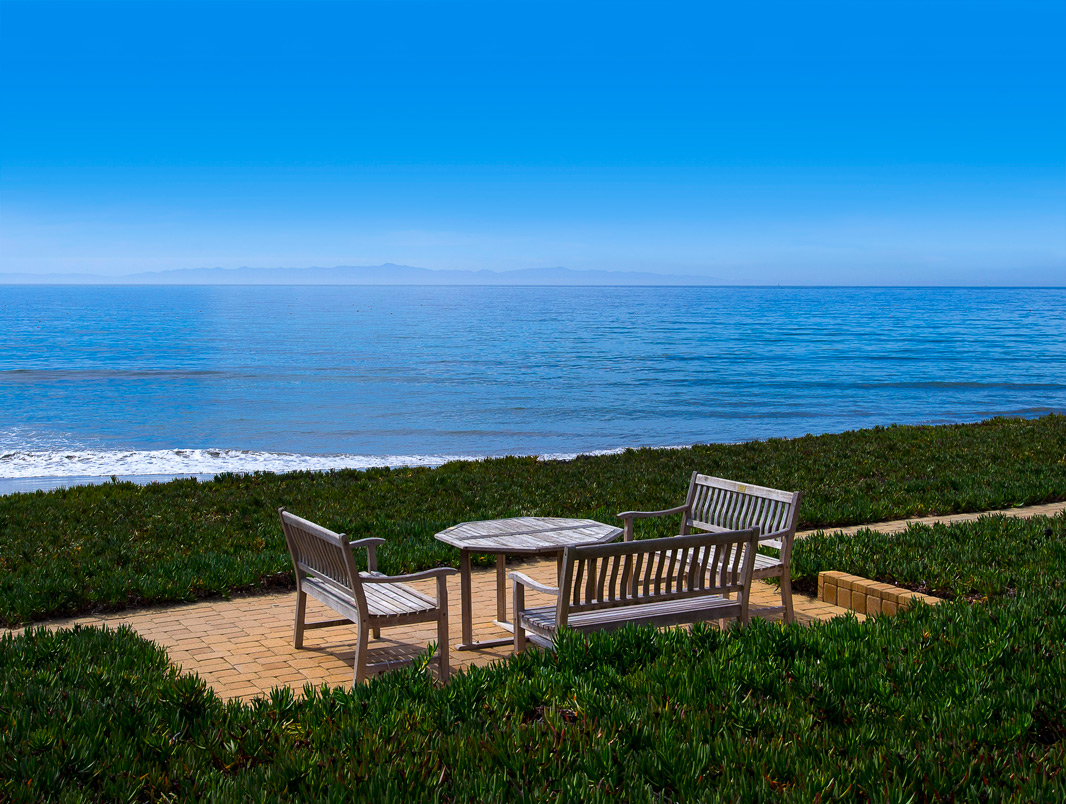 So before I headed back to my car, I had to walk down to check out the view. Several meandering paths lead between the buildings, past a lawn and a patch of ice plant directly out onto the sand. Yes, I had to get back to the office, but the pull of the beach —without another soul in sight — was too strong not to give in. So I kicked my sandals off one more time for five stolen minutes on the sand before heading back to reality.
51 Seaview Drive is currently for sale in Montecito, listed by Charlene Nagel of Compass. Reach Charlene at (805) 689-5959 or charlene.nagel@compass.com.