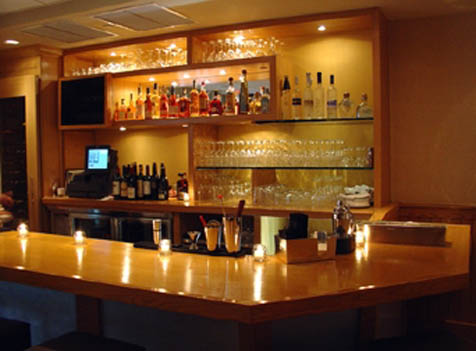 Jim Knight, winemaker and owner of Jelly Roll-the fun and sophisticated wine brand known for its critically acclaimed syrahs from Santa Ynez Valley-also owns a wine shop and a restaurant with his family.
"Wine shop" is perhaps an understated way to describe the family's considerable wine emporium, aptly named the Wine House, one of Los Angeles's most acclaimed wine retail stores. Though there are other wine stores in Los Angeles that have gained national acclaim, including the nearby Wally's, the Wine House's gregarious and friendly approach to customer service, coupled with its almost overwhelming array of wines from around the world, make it the one-stop wine mecca for wine lovers in the Southland. As if that weren't enough, the Knight family also owns and operates Upstairs 2, a fine-dining restaurant located-where else?-upstairs from its wine store.
Upstairs 2 is owned by Jim, his brother Glen, and their father, Bill Knight. On the evening that I dined there, the notoriously cantankerous Bill Knight, the enological and culinary godfather of their family holdings, was moving from table to table, greeting guests within the intimate, fashionable dining room. Wearing suspenders over his well-pressed shirt, the elder Knight eventually made his way to our table. I greeted him by telling him I'd heard a lot of nice things about him-how successfully he'd run his store for the past 20 years, that Upstairs 2 is great and that I couldn't wait to try the food, etc. He responded with a suspicious expression that soon collapsed into a grin, and said, understatedly, "You must be talking to the wrong people."
The Knight family has transformed a relatively small room into one of L.A.'s best-kept secrets. The one-room restaurant, suffused in golden light, is warm, elegant, and metropolitan. Once inside, you could easily imagine yourself in downtown Manhattan or Paris. The regulars who visit Upstairs 2 are big-city sophisticates-or at least they act the part. It's nice to dine in a room full of dressed-up, fashionably attired people. Don't get me wrong, I love the "California casual" appeal of Santa Barbara, and it's nice that you can get into most any restaurant in town wearing a pair of jeans. But, once in a while, it's nice to dress up; it makes dinner feel like a special occasion. And, indeed, a night at Upstairs 2 is an unforgettable, special occasion.
The menu itself is a revelation in that it suggests wine pairings that are forward-thinking, unpredictable, and helpful, to boot. Many restaurants recommend a wine that's on their list with a certain dish, but Upstairs 2 is a BYOB-friendly restaurant, so its pairings aren't brand-specific. For example, I ordered what turned out to be a fresh, lovely, crisp salad called "The Deconstructed Salad." It includes almond-crusted goat cheese, roasted beets, pancetta chips, and fig dressing sparingly tossed over fresh baby greens. The recommended pairing was a "soft, aromatic red."
The standout course of the night was the grilled venison tenderloin with a spicy blackberry gastrique. We had this with a 20-year-old first-growth from Bordeaux and the pairing was nearly religious. Cooked to perfection, the venison displayed no gaminess, and instead was infused with a rich, meaty creaminess not unlike that found in a filet mignon. The braised, boneless short ribs in a mole sauce were also sublime. We had these with a Central Coast syrah-a seamless marriage of food and wine.
Throughout our meal, we also enjoyed several small plates, including cold-smoked blue marlin, sage-and-lime scented olives and almonds, and lobster-stuffed piquillo peppers.
The host, Charles, a perfectly lovely man with impeccable manners and a confident, stylish grace, checked in on us periodically, as did our various servers, who were always there to lift an empty plate or replace a knife, but did not make their presence known otherwise. In other words, the service in the restaurant is "old school" in the best sense of the term, even despite the modern appeal of Upstairs 2.
In Los Angeles, it seems as if a new restaurant opens every other day. Here's hoping Santa Barbara's own Jim Knight, with the help of his family, can parlay a great business model into an L.A. institution that will live on for years and years.
4•1•1
Upstairs 2 is located at 2311 Cotner Avenue, Los Angeles. Call (310) 231-0316 or visit upstairs2.com.