Sports
Double Vision at Dos Pueblos
Chargers Volleyball Team Led by Twin Stars Carly and Sam Wopat
There are a couple instances where a volleyball player might be seeing double across the net from the Dos Pueblos High girls team:
1) She's looking at DP's intimidating senior hitters, Carly and Sam Wopat.
2) One of the Wopat twins just slammed the ball off her noggin, and now there are four Wopats, and two of everybody else.
Carly and Sam are not the only Chargers who can do serious damage on the volleyball courts. Almost every player has returned from a team that rolled to the CIF final last year. The Chargers lost that championship to the Santa Barbara Dons-whom they had beaten twice in Channel League play-and that assures that DP's nine seniors will be very motivated in their last go-around. Next year, they will scatter to various colleges. The Wopats have been awarded full scholarships to Stanford University.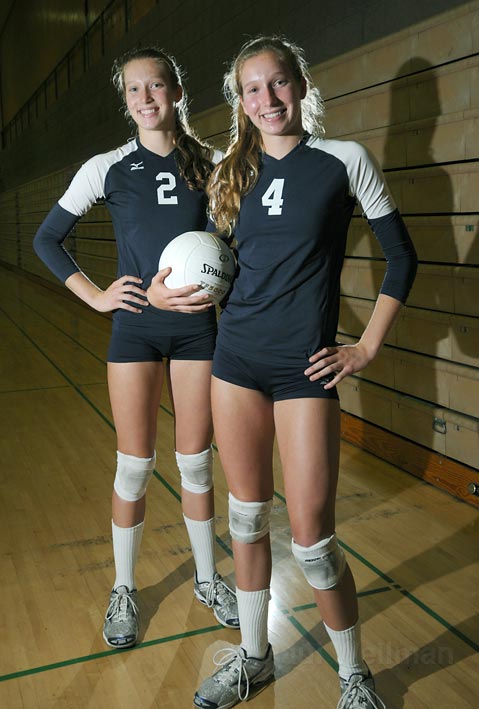 "It's our year to shine," Carly Wopat said. "We're focusing on what we can do now."
Although the twins appear to propel a volleyball out of identical shotgun barrels, they have their differences. Carly, the firstborn by nine minutes, is an inch taller than her sister at 6'2″. Her legs are longer and her feet bigger. Sam, though, may have the stronger personality. She said Carly is "more laidback sometimes," while Carly said her sister can be "more stubborn."
They are believed to be "polar body" twins-closer to identical than fraternal. "Seventy-five percent of their DNA is identical," said their mother, Kathy. Both girls stood to inherit exceptional genes, however they were mixed. Kathy, a six-footer who competed in gymnastics and track at UCSB, is a Dos Pueblos math teacher. Ron Wopat, their father, was a powerful decathlete who competed in the Olympic Trials; he is an S.B. City College professor who currently teaches four sessions of calculus at DP. It's no wonder their girls are straight-A students. They will be helping design robots this year as senior members of the DP Engineering Academy.
The Wopats encouraged their children-including two younger boys-to be active. "They just need to go outside, run, swim, and play," Kathy said. "Ron grew up running around a dairy farm in Wisconsin. We like the kids to be doing multiple sports. They become more balanced athletes and don't get over-use injuries."
But she concedes that the girls, who jump and throw for the DP track and field team, have "an extra spark and passion for volleyball." It started at Kellogg School, where they were coached by Tina Brown, a former Cal Poly volleyball player. Sammie Brown, her daughter, is Carly's and Sam's longtime classmate and teammate.
All three of them have international experience. In July, the Wopat twins played on the U.S.A. Girls National Team at the FIVB Girls Youth Volleyball World Championship in Thailand. Sammie Brown, a setter, is participating this week in the FIVB Junior Beach World Championship in Blackpool, England. She will return by the time the Dos Pueblos girls enter league play.
Other senior starters on the team include Paige Craine, Sally Yingst, and Kelcey Chaffin. "We're excited about this year," Sam Wopat said. "This is our last time playing in front of a bunch of friends and everyone we know."
Santa Barbara High once again looms as a major rival to the Chargers. In fact, the Dons were rated No. 1 on the CIF Division 1-A preseason poll, and DP was No. 2. Led by the stellar defense of Emily Rottman and the hitting of Eve Ettinger, Santa Barbara knocked off the No. 1 Division 1-AA team, Santa Margarita, in four games last weekend. Meanwhile, Dos Pueblos swept Valencia and Harvard-Westlake in a pair of home matches.
When the Chargers go up against the Dons this fall, the gyms will be packed with fans and crackling with energy. Their first league match will be September 29 at Dos Pueblos; the rematch on October 27 at Santa Barbara.
GAMES OF THE WEEK: Santa Barbara High's football home opener against Beverly Hills will be tonight (Thu., Sept. 17) at Peabody Stadium, instead of Friday, in deference to the start of Rosh Hashanah. : On Friday night, Dos Pueblos, Carpinteria, and Bishop Diego have home games. : SBCC, which pulled off its biggest football victory in many a year last weekend (17-14 over College of the Canyons), hosts another strong team, Ventura College, at 6 p.m. on Saturday. : UCSB takes on Mexico's U-17 world champions in an exhibition soccer game at 7 p.m. on Tuesday (Sept. 22) at Harder Stadium.