Sports
Kickin' It
Three S.B. Teams Head to World Championships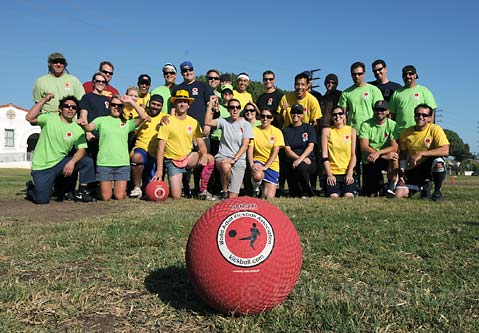 Adult kickball may be the fastest growing sport in Santa Barbara. Its appeal is obvious: The players are too old to have parents embarrassing them, too free to have coaches badgering them, and too amateur to have fans complaining about them.
You have to be older than 21 to play, because it's a sport where liquid carbo-loading is a ritual. Every registered league in the World Adult Kickball Association (WAKA) is affiliated with a bar. Sharkeez on State Street is where the local kickballers congregate after their games. The spacious watering hole is needed to accommodate the 25 teams that compete in two local leagues-Fiesta and Solstice-on Tuesday and Thursday nights at Santa Barbara Junior High.
"It's a two-tiered sport," said Doug Getty, captain of the Royal Tennenballs. "You have the games and then flip cup [a beer-drinking contest] afterward." Getty, a 31-year-old IT manager, is a former rugby player who became a father three months ago. "Kickball keeps me and my family sane," he said. "It's a mandatory outlet."
Three Santa Barbara teams-the Royal Tennen- balls, the Cosmic Banditos, and the Multiple Score-gasms-are making history as the city's first entrants in the WAKA Founders Cup. They are among 72 teams from across the nation that will compete this weekend in the tournament at Las Vegas.
"Kickball is best known for having fun," said Ashley Poe, captain of the Cosmic Banditos. "We decided we wanted to have fun and win. We made sure everybody's athletic. We also kicked off some players who were jerks."
They play the same baseball-style game-trying to kick a red ball that is bounced or rolled toward home plate-that has long been a school playground favorite. It gets high marks for gender equity: WAKA rules require each team to be playing at least four females.
Getty estimated that one third of the local players are UCSB graduates. "We're mostly young professionals," he said. "Most of us are in the age range of 27 to 32."
The Multiple Scoregasms win the creativity prize. They have a cheer that recapitulates Meg Ryan's performance in When Harry Met Sally, only, "It's louder," said team captain Elise Geiger. A laid-off computer programmer, Geiger is a former track star who sprinted on two record-setting UCSB relay teams.
"She's quick around the bases," said Scoregasms pitcher Nick Schooler, a graduate student in marine science. Schooler is known for his sartorial splendor. During a practice game last week, he sported a Panama hat, tight jean shorts, a fanny pack, and striped kneesocks. The whole team might wear fanny packs for uniformity, Schooler said, while players have shown their individuality by dressing up in an ape suit, a Tigger outfit, or a Waldo costume.
"I've seen two kickball fights," said Schooler, who played lacrosse at UCSB. "A guy bumped our player off second base. Another time, some taunting got out of control. But most of us have competed a high enough level in other sports that this doesn't mean that much."
It seems that teams from the East Coast, where WAKA got started, take kickball rather seriously. They have won all 11 previous Founders Cup tournaments. The defending champions are the Frosty Balls of Norfolk, Virginia.
"Don't accept drinks from strangers," somebody suggested to the Las Vegas-bound teams from Santa Barbara.
"Hey," said Cosmic Banditos pitcher Jeff Yost, "you're giving away our strategy."
GAMES OF THE WEEK: Friday (Oct. 9) is a banner day for Dos Pueblos High School athletics. The DP Invitational cross-country meet is taking place at 2:45 p.m. at Shoreline Park. The Chargers' own Sergey Sushchikh is one of the top junior runners in the state. At 5:30 p.m. in DP's Sovine Gym, the No. 1-ranked (CIF Division 1-A) Charger girls volleyball team will take on Los Alamitos, which is No. 2 in Division 1-AA. DP took over the top spot on the coaches' poll by coming back from an 0-2 deficit to beat Santa Barbara in a five-game thriller last week. The climactic event of the day will be the 7 p.m. football game on the DP campus, featuring the dedication of Scott O'Leary Stadium in honor of the school's late, beloved coach and athletic director. The Chargers will play the Rio Mesa Spartans. There will be another marquee game in water polo on Monday (Oct. 12) when the DP boys host JSerra from Orange County at 3:15 p.m. in a matchup of highly ranked teams.