Sports
Fall Sports Preview – Soccer
Men's
UCSB
Any notion that UCSB would have a smooth ride to the 2010 College Cup, the NCAA men's soccer championship that will be held in its own stadium, was dispelled in the first game of the season. Cal State Bakersfield celebrated as if it had just won the World Cup after defeating the visiting Gauchos 1-0 in overtime last week.
Welcome to the target zone, Gauchos. Everybody who plays you this fall will bring their "A" game. You won't be safe at home, because every team that comes into Harder Stadium, a k a "Soccer Heaven," seems to get fired up by the largest crowds in college soccer. The average attendance at UCSB's two preseason exhibition games—with thousands of students yet to arrive for the fall quarter—was 3,645.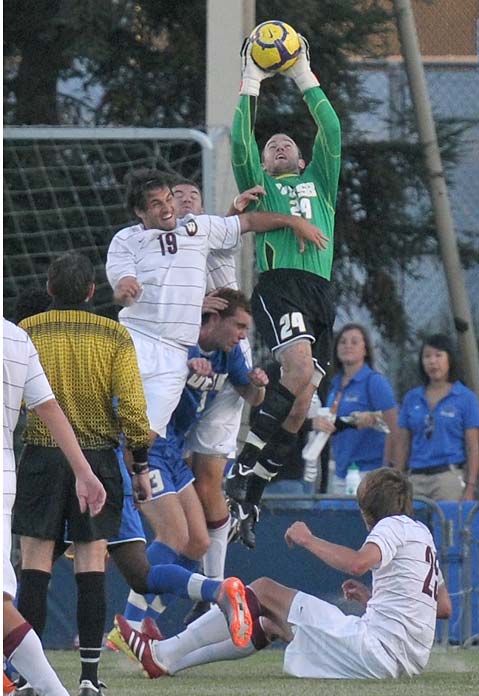 Westmont College coach Dave Wolf was thrilled to see his team pull within a goal of UCSB before going down to a 3-1 defeat. "I wish I could come up with the words to describe how good they are," Wolf said of the Gauchos. "They are incredibly gifted, well coached, and organized."
The second exhibition brought Mexico's U-20 National Team to town, and for 30 minutes, it looked like a professional game. The Gauchos attacked the Mexican defense with several brilliant runs and took a 1-0 lead on Michael Tetteh's goal, but a Mexican counterattack made it 1-1 at halftime. The second half was a bruising scoreless standoff, and tempers boiled over into a mini-brawl late in the match. After a 15-minute cooling-off period, the teams took the field for a penalty-kick shoot-out, which Mexico won, 3-1, as UCSB netted only one of its four attempts.
The Gauchos followed that performance with a night of frustration at Bakersfield, where they squeezed off 16 shots but could not get one past the goalkeeper. For all their skill with the ball and pretty passing, they lacked a potent finishing touch.
Danny Barrera promised they will improve once the new and returning players get to know each other better. "Eventually, it's going to start flowing," the junior midfielder said, "and all the finishing is going to come together. Our forwards this year can put up 15 goals each."
If that happens, lots of tortillas will be flying at Harder Stadium during the remainder of the season. UCSB is attempting to refine that tradition by urging the student fans to toss the tortillas straight up—not out on the field where they might create issues with the visiting teams and officials.
Barrera, a crafty 5'7" playmaker, has been pegged as a preseason All-American by College Soccer News and Soccer America magazine. Seven other returning Gauchos earned All-Big West honors in 2009: Sam Hayden (goalkeeper of the year), midfielder Machael David (freshman of the year), midfielder Luis Silva, defender Michael Boxall, forward Michael Nonni, midfielder Tetteh, and forward Waid Ibrahim.
Newcomers include a pair of forwards, speedy Sam Garza and David Opoku, a 6'2" native of Ghana. Another freshman, midfielder Fifi Baiden, also hails from Ghana, as do Tetteh and Ibrahim. UCSB's defense has been fortified by Chris Hunter and Evan McNiel from Arizona's Yavapai Junior College.
With all that talent, Gaucho coach Tim Vom Steeg is not alarmed by the team's slow start. He has seen their shots fly just over the crossbar and hit the goal post. "I'm not that worried," Vom Steeg said. "I'd pay money to see this team play."
The Gauchos are a top-10 team on four national polls. Two other ranked teams, UCLA and Duke, are on their upcoming home schedule. The Big West regular season championship may come down to their October 30 game at UC Irvine. Four teams will play in the postseason conference tournament, to be followed by the selection of 48 teams into the NCAA tournament. The field will be winnowed down to the four teams that will play in the College Cup semifinals on December 10.
Vom Steeg has taken the Gauchos to two previous College Cups. At Los Angeles in 2004, they were runners-up to Indiana, and at St. Louis in 2006, they beat UCLA 2-1 for the national championship. That team caught fire after stumbling to a 7-6 record in mid October. This year's journey is just beginning.
Westmont College
Coach Dave Wolf has 10 new players trying to break into the Warrior lineup. Rick McCarthy earned himself a spot when he cracked a soaring 20-yard shot into the goal against UCSB. "He didn't look awed," Wolf said. "That's a pretty big stage for a freshman."
The Warriors have a bright stage of their own on the Montecito campus. Thorrington Field, a wide expanse surrounded by the school's new track, is the home of the Westmont soccer teams.
"I think the new facility might be the biggest single impact on this upcoming season," said Wolf, in his 20th season guiding the Warriors. "The first thing that strikes you is he quality of the surface. That enables us to play a very slick passing game — if we have the quality to do it."
Junior forward Doug Harrell is Westmont's top scorer from last year, and senior Anthony Niboli has come back from a broken leg after scoring eight goals in 2008.
McCarthy struck again at Azusa Pacific's Cougar Classic, scoring the goal in Westmont's 1-0 win over Trinity Western of British Columbia. Sophomore goalie Matt McNab got the shutout. The Warriors also defeated William Jessup by a 3-1 score. One of the goals was scored by Peter Schmetz, a 6'6" freshman from Germany.
At the other end of the vertical spectrum is 5'2" freshman Emmanuel "Nana" Akyen, a native of Ghana who came to Westmont from Dunn School in Los Olivos.
If the pieces fall together, the Warriors will try to make a run to the NAIA national tournament, without the dramatics that accompanied their last appearance in 2008. They pulled several upsets to win the Golden State Athletic Conference (GSAC) Tournament after the Tea Fire destroyed several campus buildings and homes, including Wolf's.
SBCC
The Vaqueros have won two consecutive Western State Conference (WSC) titles under John Sisterson, who is in his fourth year as coach of both the men's and women's soccer teams. The men won their season opener 4-1 over College of the Sequoias. Jean-Carlo Guzman, a sophomore from Dos Pueblos High, had a goal and an assist.
Women's
UCSB
The Gauchos piled up nine goals while winning their first three games at home. They have their sights set on a third consecutive appearance in the NCAA women's tournament.
"We have a very good team with a great work ethic," coach Paul Stumpf said. "The success of the men's team rubs off on us. They can play at the national level and win a national championship. Why not us?"
Eight starters return, including Kailyn Kugler, the Big West offensive player of the year. The team's strength is its depth. In their 5-1 win over St. Joseph's, 26 Gauchos saw playing time.
Westmont College
Kristi Kiely took over as coach after the 2009 season with the intention of restoring the luster to the program. Kiely played on three NAIA championship teams at Westmont. This year's team has eight seniors who have yet to play in the national tournament.
They include center back Skyla Lauda, an All-GSAC selection last year, and forward Jameisha Washington, whose goal in the final six minutes boosted the Warriors to their first victory over the year, 2-1 over Westminster (Utah).
Soccer Schedule
UCSB (Men's)
Home Matches: Sept. 10: Davidson, 7pm; Sept. 24: UCLA, 7pm; Oct. 2: UC Davis, 7pm; Oct. 6: Cal State Fullerton, 7pm; Oct. 12: Cal Poly, 7pm; Oct. 15: Duke, 8pm; Oct. 23: Cal State Northridge, 7pm; Nov. 6: UC Riverside, 7pm.
Big West Championships: Nov. 10: Semifinals; Nov. 13: Final.
NCAA Tournament: Nov. 18: First round; Nov. 21: Second round; Nov. 28: Third round; Dec. 3-5: Quarterfinals.
College Cup: Dec. 10: Semifinals; Dec. 12: Final.
UCSB (Women's)
Home Matches: Sept. 17: Weber State, 7pm; Sept. 19: Oklahoma, 1pm; Oct. 8: Cal State Northridge, 7pm; Oct. 10: UC Irvine, 1pm; Oct. 15: UC Davis, 5pm; Oct. 17: Pacific, noon; Oct. 21: Seattle, 7pm.
Big West Championships: Nov. 4: Semifinals; Nov. 7: Final.
Westmont College
Home Matches: Sept. 11: CSU San Marcos, 1pm; Oct. 2: San Diego Christian, 3:30pm; Oct. 12: Fresno Pacific, 3pm; Oct. 20: Azusa Pacific, 3pm; Oct. 23: Hope International, 2:30pm; Oct. 30: Vanguard, noon.
GSAC Tournament: Nov. 2: First round; Nov. 5: Semifinals; Nov. 12: Final.
SBCC
Home Matches: Sept. 17: L.A. Harbor, 2pm; Oct. 1: Moorpark, 7pm; Oct. 12: Oxnard, 7pm; Oct. 15: Cuesta, 7pm; Oct. 21: Hancock, 7pm; Oct. 29: West L.A., 7:30pm; Nov. 12: Ventura, 7pm.