Sports
S.B. International Marathon
Folks Run Through the Streets This Weekend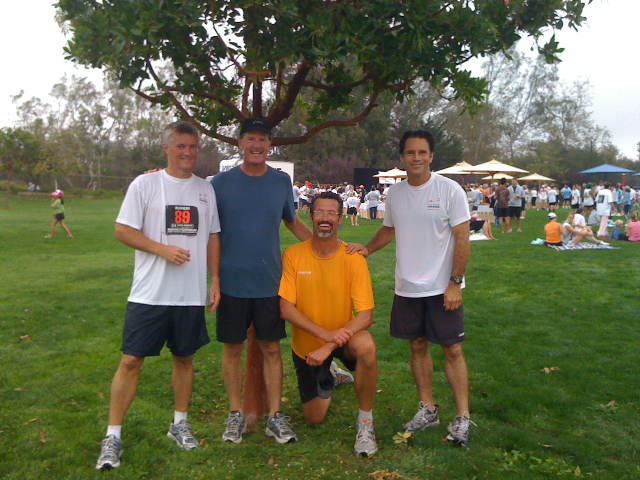 Even though "International" has been inserted into the title, the Santa Barbara International Marathon and Half Marathon is, at its heart, a hometown affair. Until last year, when the marathon was inaugurated under the sponsorship of Select Staffing, regional runners yearning to try the 26.2-mile distance had to pack up their gear and travel.
"It's so much fun to be running in town," said Chrystee Bradley, a PE teacher at La Colina Junior High and mother of two. "I can wake up at home and see my family that morning, and they can go out and watch me finish."
There will be hordes of area residents on the streets at 6:30 a.m. Saturday, November 6, when both runs start—the marathon at Dos Pueblos High School and the half-marathon at Tucker's Grove. They will finish on the waterfront at La Playa Stadium. In 2009, when the races were held a month apart, they had a combined 3,400 finishers. A number approaching that would make it the biggest running day ever in Goleta and Santa Barbara.
Bradley finished 30th overall in last year's marathon. Her time was three hours and 28 seconds. "My big goal is to go under three hours as a 40-year-old this year," she said. "I'd be very happy to do it in 2:59:59."
She has been running most of her life, ever since going out for high school cross-country in Lancaster at her mother's insistence. "She said, 'I'm dropping you off tomorrow,'" Bradley said. "It was hard. But it turned into a way to get me into college on a scholarship at San Diego State. I enjoy teaching and being a mom because I can share what my mom did for me."
Bradley has run 10 marathons, but it wasn't until Santa Barbara last year that her mother, Claudia Perkins, saw her finish one. "That was my greatest experience," she said. "My mom was out there in a wheelchair. I'll be thinking of her Saturday. I lost my mom at the end of May."
Another reason the Santa Barbara Marathon is special to her, Bradley said, is that her running coach, Rusty Snow, is the founder of the event. "I want to support Rusty. He's such a great guy."
Steve Kulchin, who has done the world-famous marathons in Boston and New York, is joyful at the opportunity to run with friends and neighbors. "It's wonderful," he said. "It's small enough that you don't feel lost in the crowd. Coming down Shoreline Drive is a beautiful finish. There's something about being at mile 26 and seeing the harbor."
As a vice president at Mission Linen Supply, the 55-year-old Kulchin has inspired several employees to enter the marathon or half-marathon. He regularly runs with a group of friends that call themselves Team Crossroads, so named because they would rendezvous at an intersection.
Within the group, Kulchin goes by the name T-Bone. "It's about not taking ourselves too seriously," he said. "We'd show up on Saturday morning and talk about our race preparation. I'd have stories about eating a big steak, drinking a bunch of red wine, and smoking a cigar the night before."
Other members are Big Foot (Michael Crandell), Showboat (Steven Crandell), and Streak (Brad Champagne). Kulchin's enthusiasm is legendary. "We run a lot on the bike path, and Steve's always telling visitors and foreigners, 'Welcome to Santa Barbara,'" Michael Crandell said. "He pushes surrey bikes to help out parents whose children are lagging behind."
When they ran the Boston Marathon together, Crandell said Kulchin ran from one side of the road to the other. "He was high-fiving the spectators," Crandell said. "They were lining the whole route. He high-fived more people than any professional athlete has done in his lifetime."
GAMES OF THE WEEK: Six Carpinteria greats, including five-time CIF champion football coach Lou Panizzon and 1982 state mile champion Tom Grewe, will be inducted into the high school's Athletic Hall of Fame at halftime of Friday night's (Nov. 5) football game between the Warriors and the rampaging Nordhoff Rangers. … Dos Pueblos topped the Santa Barbara Dons 27-7 last week and will be going for a local sweep Friday night at San Marcos. … Roller derby returns to the Earl Warren Showgrounds on Saturday (Nov. 6, 5pm) when Santa Barbara's own Brawlin' Betties take on the V-Town Derby Dames of Visalia. … SBCC will try to wind up its football season with a two-game winning streak and a .500 record when it hosts West L.A. on Saturday night, while UCSB concludes its regular-season soccer schedule against UC Riverside. Former Gaucho footballers will congregate at Harder Stadium to celebrate the ribbon-cutting of Curtice Gate, the new stadium entrance named after their coach, "Cactus" Jack Curtice. … The Gauchos will host a Big West soccer tournament semifinal next Wednesday (Nov. 10).