Briefs
Raise Some Green (Awareness)
LoaTree Lounge at SOhO Entertains While Raising Dough for Earth Day
In many places around the world, Earth Day is a single day in April (the 22nd, to be precise) on which students talk about recycling and a handful of people make an effort to ride their bikes. But in Santa Barbara, Earth Day is less of a day, and more of a season. And that season kicked off Tuesday, March 20, with the second annual LoaTree Lounge.
The event, which serves as both a fundraiser and opening act for the Earth Day festivities, got underway with a special edition of Green Drinks, a monthly networking event open to anyone interested in environmental business and community action. SOhO Restaurant and Music Club served up a special menu and cocktails for guests to enjoy while they checked out eco-artisans and listened to jazz by Dan Zimmerman and friends. The crowd was relaxed and friendly, and probably would have happily kept mingling for the rest of the evening if it weren't for the odd masked characters haunting the gathering, eventually coaxing everyone from the bar towards the stage.
The performances got rolling, and it was clear: This was not your stereotypical hippie gathering. And that was the point.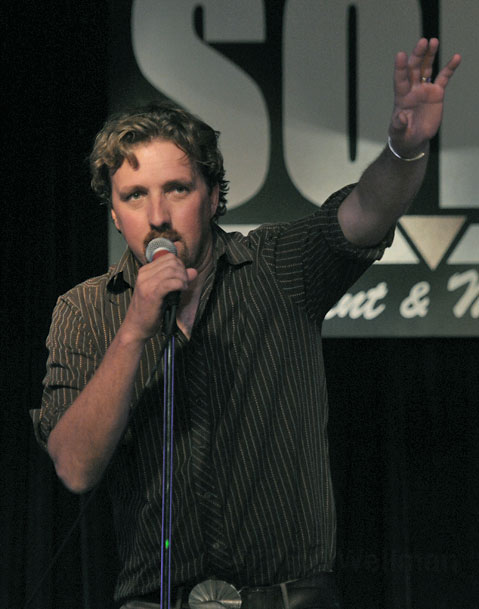 "What we're trying to do is offer people a menu of different options that bring [people] into an environmental event they might not otherwise attend," said Eric Cardenas of LoaTree, a Santa Barbara-based do-everything company with an environmental and community building mission. They've been putting together Earth Day for the Community Environmental Council (CEC) for three years, and the LoaTree Lounge fundraiser grew from that partnership. Together with partners New Noise Music Foundation and Plus One Events, they certainly succeeded in presenting an evening that was, in Cardenas' words, "inspirational and entertaining."
The first act was a fashion show, featuring work by designers Ornate Firefly, Violets Closet, and B-Line Designs. In keeping with the Earth Day theme, each designer sent five or six looks of "upcycled" clothing down the runway. Upcycled clothing is constructed of repurposed or reused materials, such as Violets Closet's use of men's ties to create women's spring dresses. The variety in styles and high quality of the upcycled clothing was noteworthy — these talented seamstress/designers haven't just thrown together the rag bag, they've made carefully constructed apparel reflecting their personal styles.
New to this year's line-up were the masked actors of the Wandering Marionettes, a performance art and dance troupe from Los Angeles. They mingled in character throughout the night and, following the fashion show, took their characters from the crowd to the stage for a quirky dance performance.
Aya Papaya and friends provided fan dancing and hooping performances, and the night was rounded out by Santa Barbara's Capoeira Batuque, who gave an impressive demonstration of their Afro-Brazilian martial art.
In addition to entertaining, the evening's goal was to raise funds for CEC's Earth Day festival, one of the oldest and biggest Earth Day events on the West Coast, if not the nation. The CEC is a nonprofit focused on moving the community towards more environmentally responsible ideas and behaviors. They're a pretty impressive group, given that over their 40-year history they've consistently run Santa Barbara's flagship Earth Day celebration, gotten the community to recycle, and run multiple organic gardens and hazardous waste disposal centers. These days they've passed the successful projects along to other groups, downsized their headquarters, and are focusing their considerable energies on moving the region away from fossil fuel dependence in one generation, a project they call "Fossil Free by '33." The upcoming Earth Day festivities provide an opportunity for CEC to showcase some of the ways locals can live with reduced dependence on fossil fuels.
"We knew no one locally was working on energy issues," said Sigrid Wright, CEC's assistant director. "With an abundance of sun and wind and a community full of smart, educated people…we decided our community could get it done and CEC decided to focus on how to get there."
The LoaTree Lounge and other Earth Day fundraisers help finance CEC's operations and the festival itself, which requires a massive 300 volunteers to implement. In addition to volunteering, supporters can text "Earth" to 5055 and make a $10 donation. Matching donors will triple these donations over the coming month, meaning each text results in $30 of funding.
Next up in the month-long Earth "Day" calendar is a fashion show at prAna on State Street on April 5 and a Green Shorts film festival on April 6. The official Earth Week opening night reception, organized by New Noise and Plus One Events, gets going on Wednesday, April 18. With so much going on, it's best to check out CEC's facebook page, or the Earth Day website sbearthday.org. Those environmentalists sure know how to party.