Briefs
Janet Wolf Opens Campaign Headquarters
Second District Supervisor Challenged by Roger Aceves this June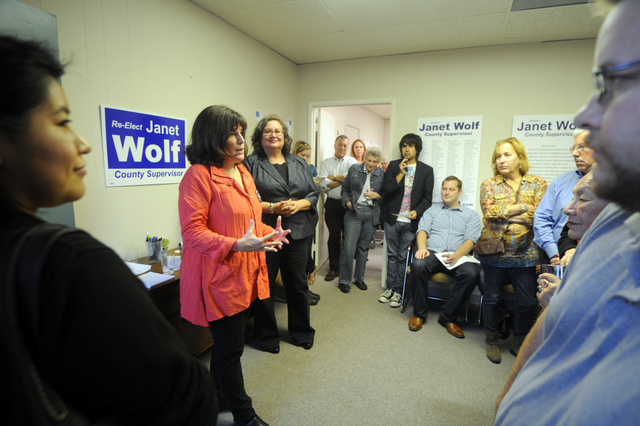 Second District Supervisor Janet Wolf and several dozen of her supporters celebrated the opening of her La Cumbre-area campaign headquarters on Thursday night, with snacks, yard signs, and many references to a "grassroots"-style race against Wolf's challenger, Goleta City councilmember Roger Aceves.
"I could not do what I'm doing without all of your help," Wolf said, pointing to a sign saying "volunteer" on the wall in front of her. "The fact that you're here and helping me and supporting me means a great deal to me." Wolf, first elected in 2006, praised her "great walking team" and said that although some people might not always agree with her, "I honestly believe that they trust me."
"This is the space where we're going to win this race for her," said Santa Barbara City Councilmember Cathy Murillo, who attended the opening. "You're one of my favorite people in the whole world," she said to Wolf. "I'm ready to sweat for you." Other attendees included Murillo's fellow councilmember Gregg Hart, attorney Marc Chytilo, former Santa Barbara Mayor Hal Conklin, activist Mickey Flacks, Goleta City councilmembers Ed Easton and Paula Perotte, and Lauren Hanson of the Goleta Water District.
Wolf, who formally announced her bid for re-election in early January, will face Aceves on June 3. The 2nd District includes parts of Goleta, Santa Barbara, and an unincorporated region of the county. Aceves's election office is slated to open soon, said his campaign manager, Chris Collier.