Adoptable Pet of the Week
Blu, a grey short-haired senior citizen of 10 years, was very shy when he first arrived at ASAP. But he has blossomed into one of the friendliest cats at the shelter and is the ambassador who greets people. This outgoing feline never hesitates to jump into an open cage to visit other cats. With a distinctive flattened ear and a unique meow, you'll not forget him. Blu is looking for a permanent home where he can enjoy the friendship of other cats.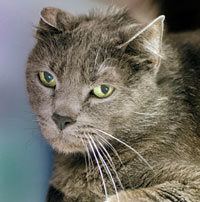 To meet Blu, and other cats needing loving homes, visit ASAP at the Santa Barbara County Animal Shelter, 5473 Overpass Road. Hours are: weekdays 9 a.m.-4:45 p.m.; Saturday, 10 a.m.-4 p.m. For more information, call the ASAP office at 683-3368 or visit www.asapcats.org.