Frog's Leap Rutherford Napa Valley Sauvignon Blanc 2013: In 1981, this winery was founded on 700 cases of sauvignon blanc by John Williams and Larry Turley, and has since been striving to make the same style of wine they did that first year: bone-dry, high-acid, low-alcohol, food-friendly. The 2013 iteration succeeds solidly, with a flinty, grassy nose that turns into tart apple and crisp pear on the palate, and all for just $22.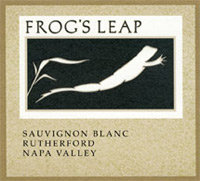 This is just one of the many wines from up north that come down south each year as part of Wally's Wine & Spirits Napa/Sonoma All-Stars Tasting, which happens next Sunday, April 13, 1-4 p.m., at the Hyatt Regency Century Plaza Hotel. Tickets are $75.
See wallywine.com for more on the event and frogsleap.com for more on the wine.