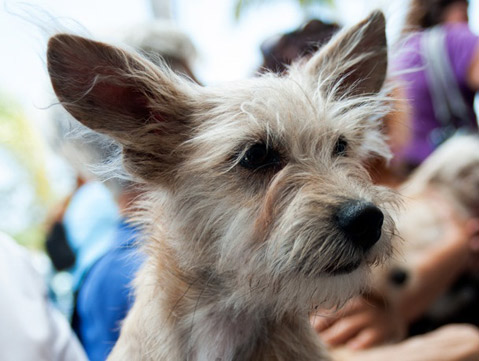 Bullet is a Shi-tsu and terrier mix puppy, about five months old, and about 10 lbs. Bullet is so adorable both in looks and personality. He is playful, social, and smart. Bullet is neutered, micro-chipped, and current on his vaccinations. Bullet is currently in his foster home with his two sisters, three brothers, and his mom, who were all rescued from a kill shelter. Bullet enjoys the company of other dogs and he is working on being house-trained. He is looking for a kind and loving person or family to adopt him and give him the wonderful forever home that he very much deserves.
To learn more about how to adopt Bullet and other puppies and dogs for adoption, email adoptme@k-9pals.org, or call 805-570-0415. To view dogs for adoption with K-9 PALS and dogs that we courtesy post for other shelters and rescues, visit the K-9 PALS website at www.K-9PALS.org or K-9 PALS Facebook page.
K-9 PALS provides four FREE dog behavior training sessions for people who have adopted a dog from any shelter, rescue group, or humane society, so please contact K-9 PALS if you want to take advantage of this great offer when you adopt a dog or puppy.
K-9 PALS – (K-9 Placement and Assistance League, Inc.) is the all-volunteer non-profit 501C3 organization that provides veterinary care, behavior training, rescue, foster, adoption, and advocacy for homeless and abandoned dogs from stray shelters. K-9 PALS receives no government subsidies, and none of K-9 PALS funding goes to employee salaries. All K-9 PALS donations go directly to benefit the dogs, to save lives and reduce the number of abandoned and homeless dogs in shelters. K-9 PALS financial support to accomplish our mission is solely dependent on donations and charitable giving.
For more information about K-9 PALS go to K-9 PALS , or call 805-570-0415, or K-9 PALS on facebook. Donations are gratefully accepted through PayPal, or to K-9 PALS P.O. Box 60755 Santa Barbara, CA 93160-0755.