Sports
Clint Ewing Rides Again
Motorcycle Daredevil Who Survived Scary Stunt Returns to the Road
Clint Ewing nearly died last summer when his attempt to set a world record for riding through of tunnel of fire went awry, leaving him with severely burned hands and wondering what would become of his career. But this past May, after three surgeries and lots of soul-searching, Ewing hit the road again, taking his stunt motorcycle riding act to more than 25 events across the country, from Missouri and Chicago to Pennsylvania, Virginia, Florida, and beyond.
"Just as soon as I thought I was at the end of my career and having to get a normal job, it spun around again, against the odds," said Ewing, who was recuperating at home in Santa Barbara when he conceived of this more intimate style of a demo tour, most occurring outside motorcycle shops, as a way to keep his sponsors stoked. "I'm having one of the best years of my life, event-wise."
While his injury came during a daredevilish ride through a 350-foot-long fireball at the Sturgis Motorcycle Rally in South Dakota, such world record-minded feats are only occasional episodes in Ewing's otherwise rather safe career in freestyle street bike riding, the comparably slow-paced but mind-bending art of extended wheelies, saddle standing, and crazy spinning moves. He first fell in love with dirt bikes growing up near Cold Springs School in Montecito, but got into the freestyle stuff after buying his first street bike in college. Eventually, sponsors wanted to bring him to events, and a career ensued.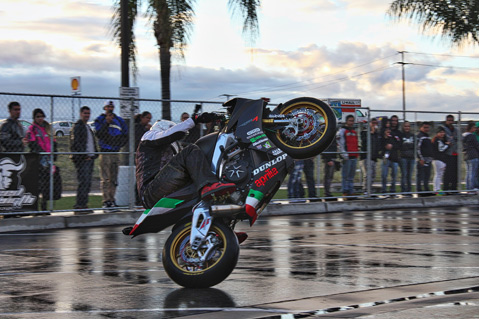 The August 2013 crash–which made national news–threatened all of that, forcing Ewing to both mend his body and mind. Fighting off the frustration he felt while dropping things through his new hands in the grocery store, Ewing eventually got back on a mountain bike, and then slowly relearned the motions on his motorcycle. He'd often think back to the day of the accident, when an incoming storm made the conditions less than ideal, causing many around him to advise against carrying on with the stunt. It's made him look at how he lives his entire life. "If I'm willing to go do that and not second-guess it, I need to slow down a bit," he concluded. "I don't need to prove anything to myself anymore."
There will be no such stunts on this tour, which concludes August 8, when his best friend gets married in Santa Barbara. And it's only a matter of time before Ewing puts down all of his tricks for good. "Some guys think this motorcycle thing is the end all be all, but I've never thought that way," he said. "It's fun, but it doesn't make you a better person. I don't ever want to be that person just known as the 'guy who rides motorcycles.' I want, for my friends and my family and myself, to be more than that."
See ClintEwing.com.