Best Of
Best of Santa Barbara® Readers' Poll 2015
'The Santa Barbara Independent' Readers Vote for Their Favorite Places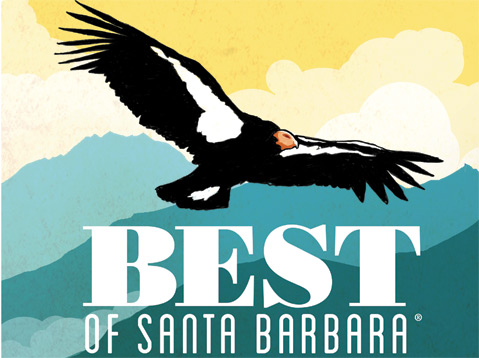 Here it is, your 2015 edition of The Santa Barbara Independent's Best of Santa Barbara® Readers' Poll. Once again, you, our faithful readers, have wielded the certain sword of democracy and cleaved away all the chaff from the Santa Barbara landscape with your votes. Thousands of you weighed in, and after some careful counting on our end, a finely curated collection of the best our town has to offer has taken shape. From coffee, booze, and doctors to campgrounds, car dealerships, and daycare, the following is a mix of businesses new and old, big and small, all of them considered top in their field by the people of Santa Barbara.
And then there is that condor. What the heck is up with that condor? Well, his name is Indy, and he is the newest member of The Independent family. As we prepare to embark on our 30th anniversary year (an occasion commemorated by Indy's #30 tracking tags on his wings), we decided to spice up our annual Best Of celebration with a big dose of North America's largest and rarest land bird, the California condor. Luckily for us, having just returned from the brink of extinction, Indy was up for some fun, paying visits to several of this year's winners and getting up to speed on the greatest and latest businesses and services on the Central Coast. We hope you enjoy, and as with all elections, if you see a result you don't like or don't agree with, let that be your motivation to get out and have your voice heard next time around.
• Eating: Fancy dishes, big burgers, and taco triumphs can all be found in this best dining round-up.
• Drinking: Who's got the stiffest drinks and best red wine? All that and more in the best beverage category.
• Out & About: Music, movies, bowling, theater, billiards — find the best things to do outside of work.
• Looking Good: Dressing up or just need new kicks? Here are the best spots for your feet, face, and more.
• Romance: Beauty and the beaches — find the most romantic places to take a first date, get married, or celebrate an anniversary.
• Housing: From gardening to house decorating to buying a home, the housing category has answers to all of your questions.
• Driving: Cars, motorcycles, and more — here are the best places to get your automobile fixes.
• Sporting Life: From martial arts studios to surf shops, here are the best places for keeping active.
• Little Creatures: For all your kids' and pets' needs, check out the best toy stores, day care, pet shops, and doggie camps in town.
• Living Well: Find the best places to indulge in life outside of work — from cameras to books to music to computer repair, and all things in between.
• Media: From columnists to websites, here's the best way to stay in touch with the world around us.